While all beaches are NOT created equal; this list rounds up the best and provides a quick guide for exploring this balmy destination.
Lamai Beach, East Coast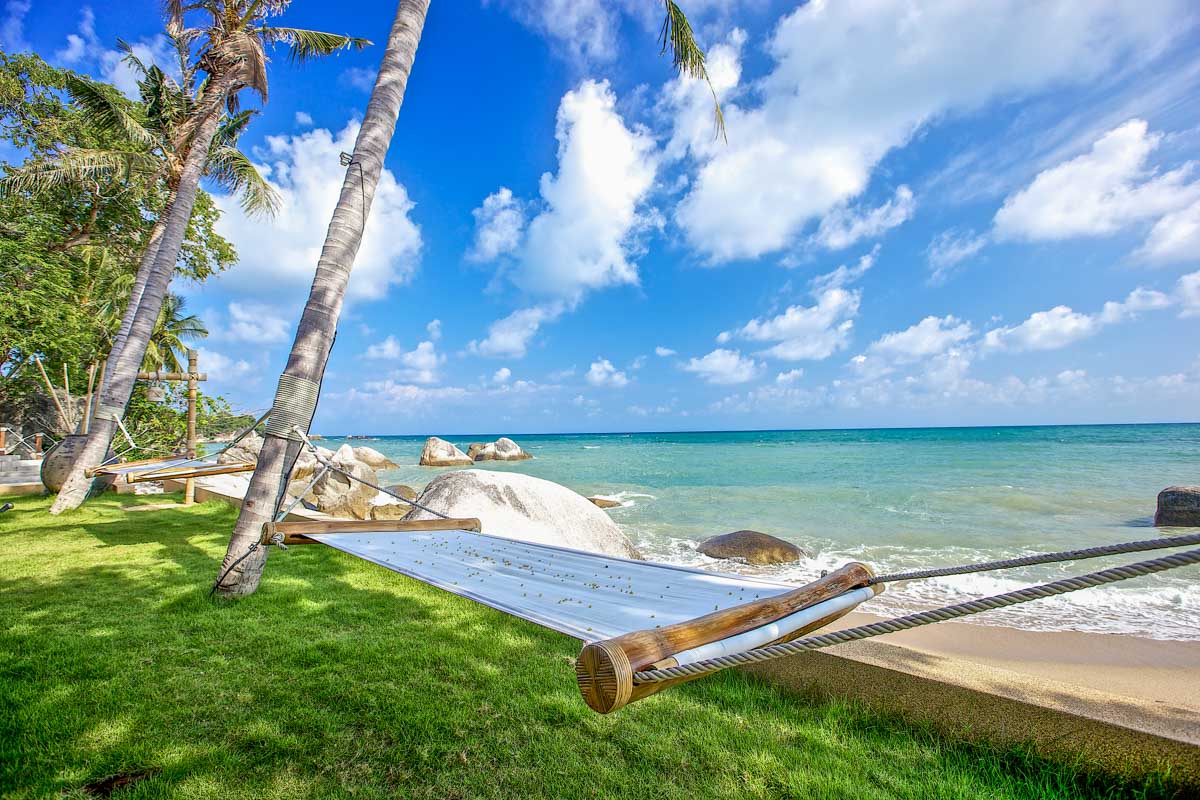 At the southern end of Chaweng, Lamai Beach is known for the population of luxury holiday rentals and water sports opportunities – the beach is lined for nearly its entire length by resorts and private villas.
It is the second largest resort area of Koh Samui after Chaweng, with a more laid-back atmosphere, some dining and shopping, day spas, and tourist sites including the Hinta Hinyai rocks to explore.
Lamai Beach is a long one peppered with great boulders, with space for everyone and it never really feels crowded, good for a leisure stroll in early in the day.
Sunrise views can be pretty dazzling and enjoyed in privacy. The snorkeling is pleasant, with the center and southern reaches of the beach good for a swim.
Choeng Mon Beach, Northeast Coast
Dominated by luxury hotels and colorful temples, Choeng Mon is a protected bay amid a series of small bay in the northeast corner of Koh Samui, intervening the coastline of Chaweng and The Big Buddha.
The beach is quite protected (preferred by visitors who want to avoid the hubbub on most other beaches).
The water is good for swimming during high tide, from where you can kayak all the way to the islet of Ko Fan Noi, which sits just offshore (or even walk during low tide), making for a pleasant pastime for when you feel like doing nothing.
Choeng Mon is also famous for water sports, so jet skiing, snorkeling, scuba diving are the main activities.
And relaxing too, taking into account the recent addition of beach massage huts at Sangsuri Villas.
Where to stay
The Sangsuri Villas
The Sangsuri are 3 contemporary villas, with extensive amenities such as outdoor cinema, 2 kid's rooms, gym, nanny's room, massage huts, and incredible sea views across Chaweng bay and Koh Matlang.
Villa Belle
This stylish 3 bedroom home is set in lush tropical surroundings on a hillside overlooking Choeng Mon and Plai Laem. The villa is designed to encompass these wide panoramic vistas of the azure Gulf of Siam and neighboring islands.
Chaweng Beach, East Coast
Chaweng is the island's nightlife central, with entertainment for every taste. Aside from the beach, a buzzing nightlife scene and plenty of boutiques are big draws in this popular haunt.
The white sand beach alone has a good number of cocktail bars and restaurants.
This long strip (stretching nearly 3 km) provides rather gentle surf and relatively shallow water for swimming.
Considering the constant crowds, the white sand is surprisingly clean. Water sports options are abundant, while lined with small resorts and dining places, it is always buzzy here.
Where to stay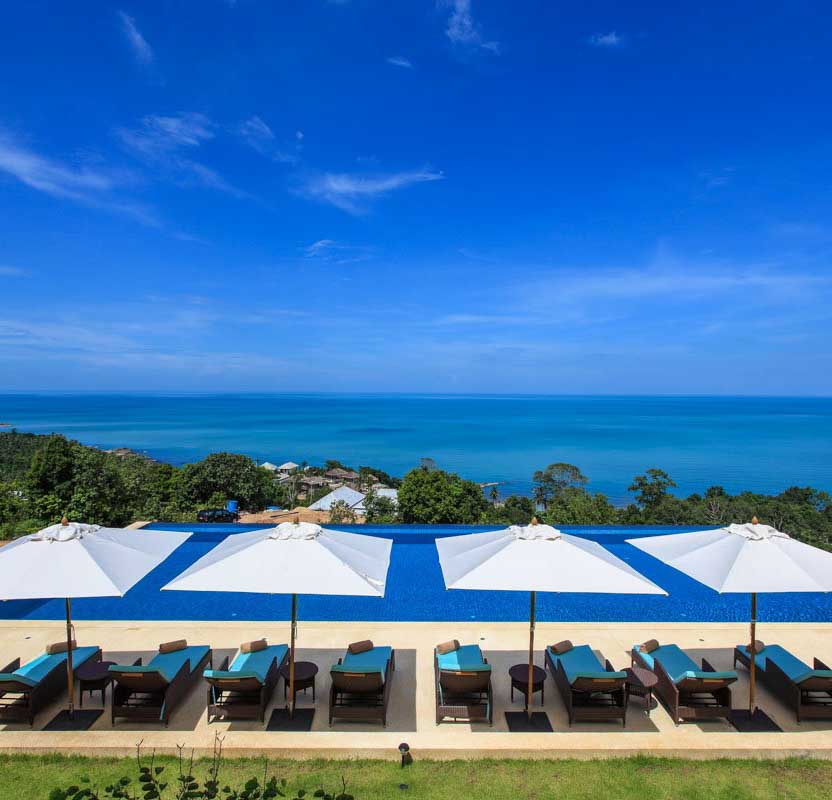 Ban Jakawan
This 7 bedroom residence has one of the largest private pool in an exclusive holiday villa. The pool sala has a swim up bar, a large dining table and a full kitchen with grill, presenting a great setting for poolside celebrations, equipped with full BOSE sound system.
Villa Mia
This 5 bedroom beachfront retreat in Chaweng impresses with a poolside covered sala with comfortable seating providing an idyllic spot to relax and enjoy both pool and ocean views.
Laem Sor Beach, Southeast Coast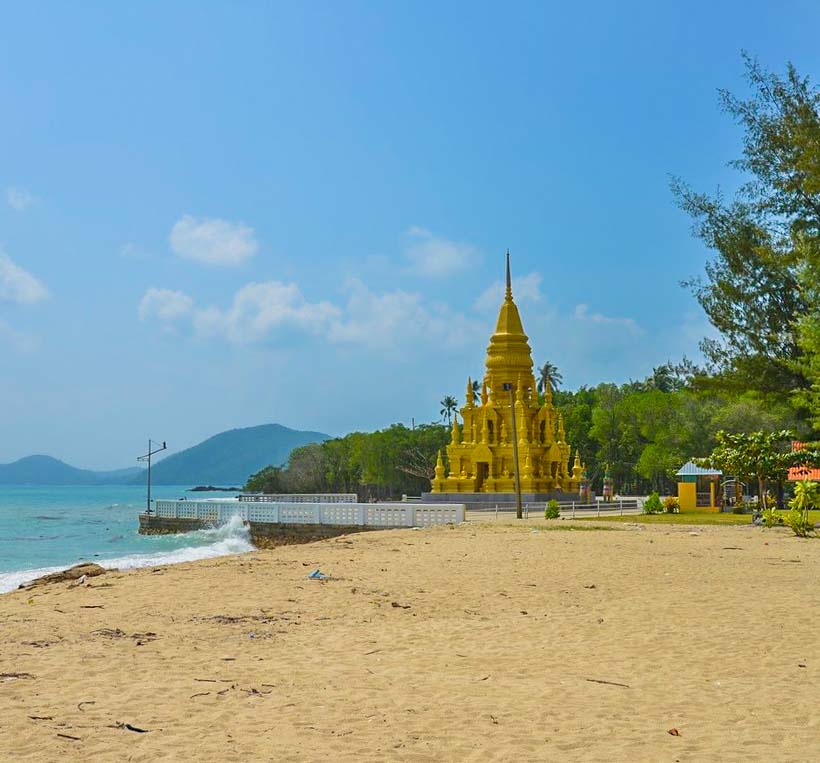 Laem Sor beach is off the beaten track, known as the location of the ancient pagoda. This stretch of beach has just a few private beach villas scattered about, allowing the idyllic setting to retain its tropical serenity.
The Laem Sor Pagoda sits right at the end of this somewhat rocky beach.
This yellow-tiled sight has a golden glowing appearance, especially in the sunlight. It is part of the Wat Laem Sor complex with the main temple slightly farther away in the forest.
With some driving away from main resort areas, this beach is usually quiet and ideal for private get-togethers, fronted by a shallow shoreline where children can be children. The beach is affected by low tides and thus not suitable for swimming.
Water sports, fishing and cooling off in the infinity pool are preferred.
Where to stay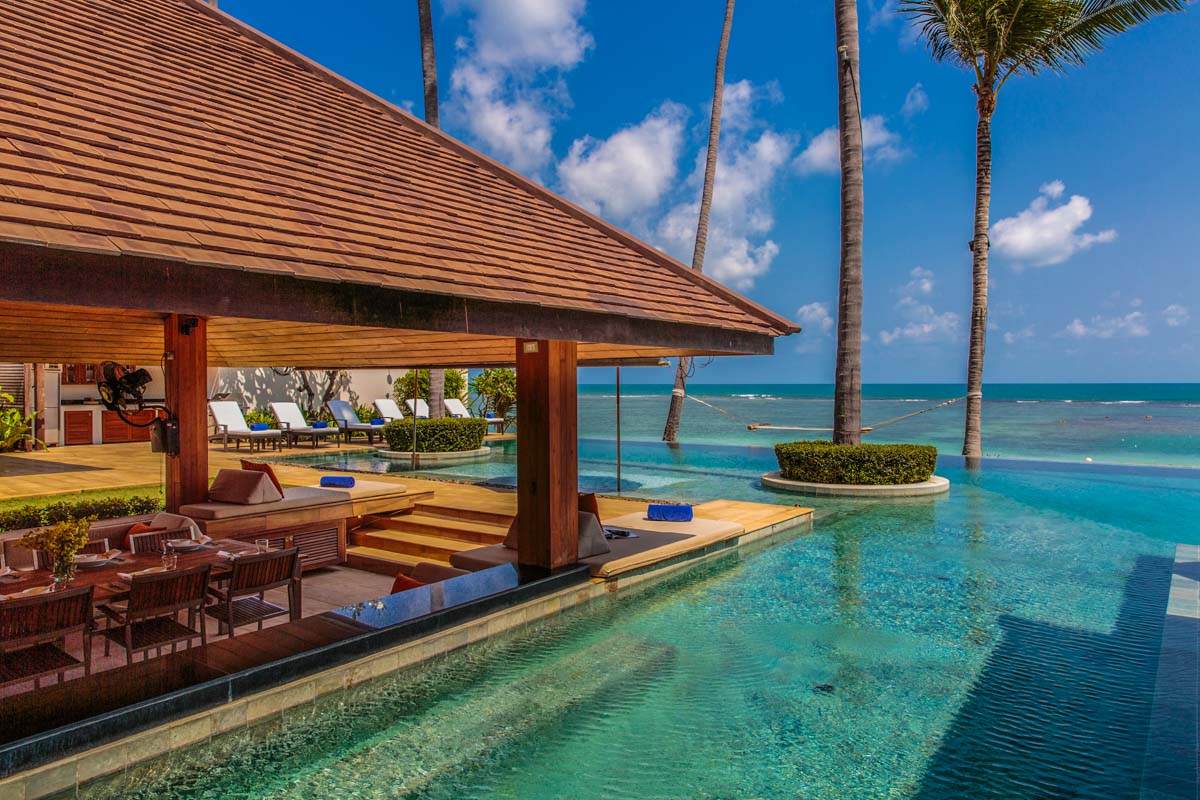 Ban Mekkala
Fronting the 25m pool at Ban Mekkala is a large, sunken dining sala furnished with a 14-seater dining table and equipped with a wall-mounted TV. Left of the pool, a kitchenette is fitted with a fridge and barbecue unit.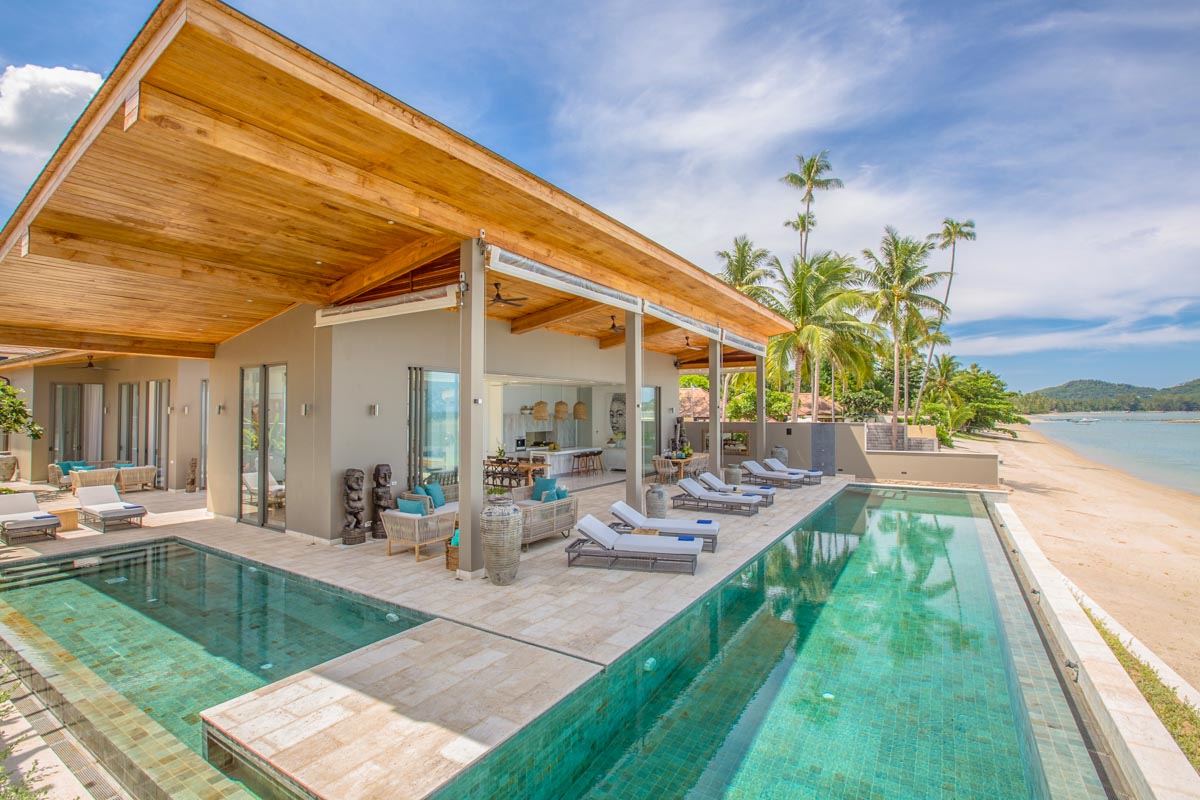 Pavana Villa
Built for families, Pavana Villa impresses with its funky kids room complete with a colorful play area, and a 7×3 m shallow kiddies pool.
Taling Ngam Beach, Southwest Coast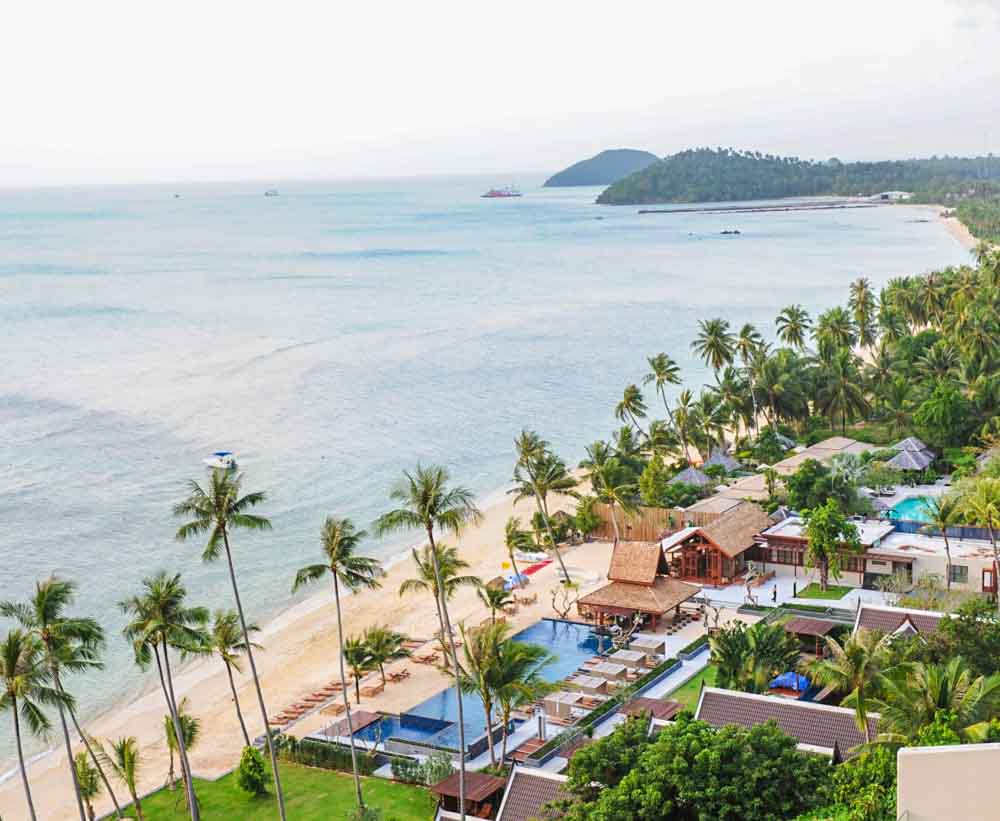 Overlooking famous The Five Islands and Angthong National Marine Park, Taling Ngam Beach is a top-notch spot for sunset views.
The area is still pretty unpopulated (though billed as the next luxury residential hotspot of the island), except for the number of private luxury resorts and mid-range bungalows that line the jungle-shrouded white sand beach.
You can walk for what seems like miles out, uninterrupted, and still have water at knee depth.
If you are after a relaxing, quiet retreat above all else, this quiet corner of a scenic headland is hard to beat.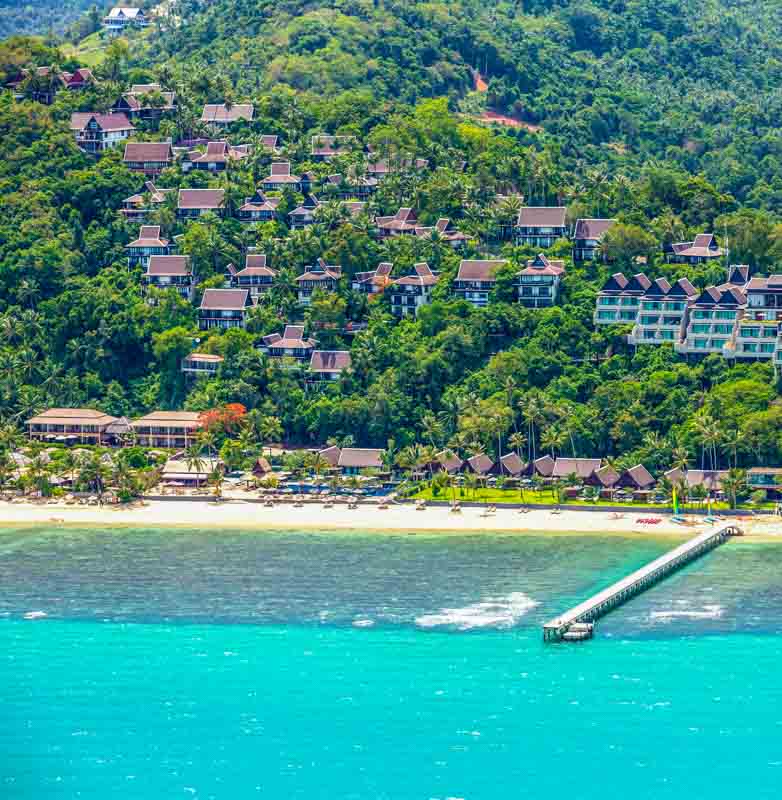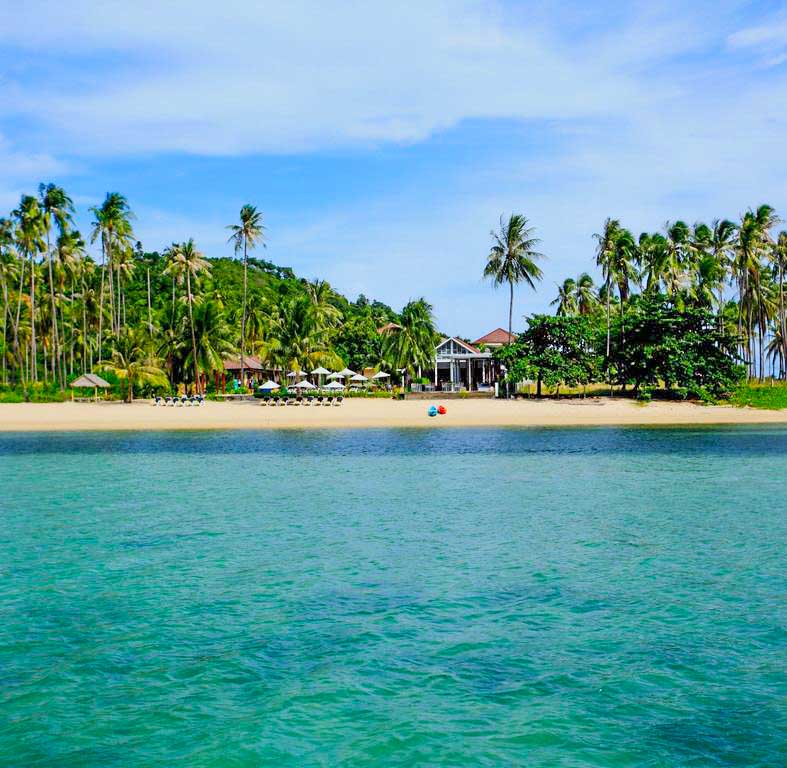 Where to stay
The View Villa
A chic glass-walled residence with a separate roomy dorm for up to 8 kids, this beautiful villa's private, lawned, beachside terrace is perfect for day time repose or evening entertainment under the stars.
Baan Asan
This monochrome beach house has a functional and practical layout making it the ideal place for groups of friends, families and large beautifully with the parties to enjoy together.
Lipa Noi beach, West Coast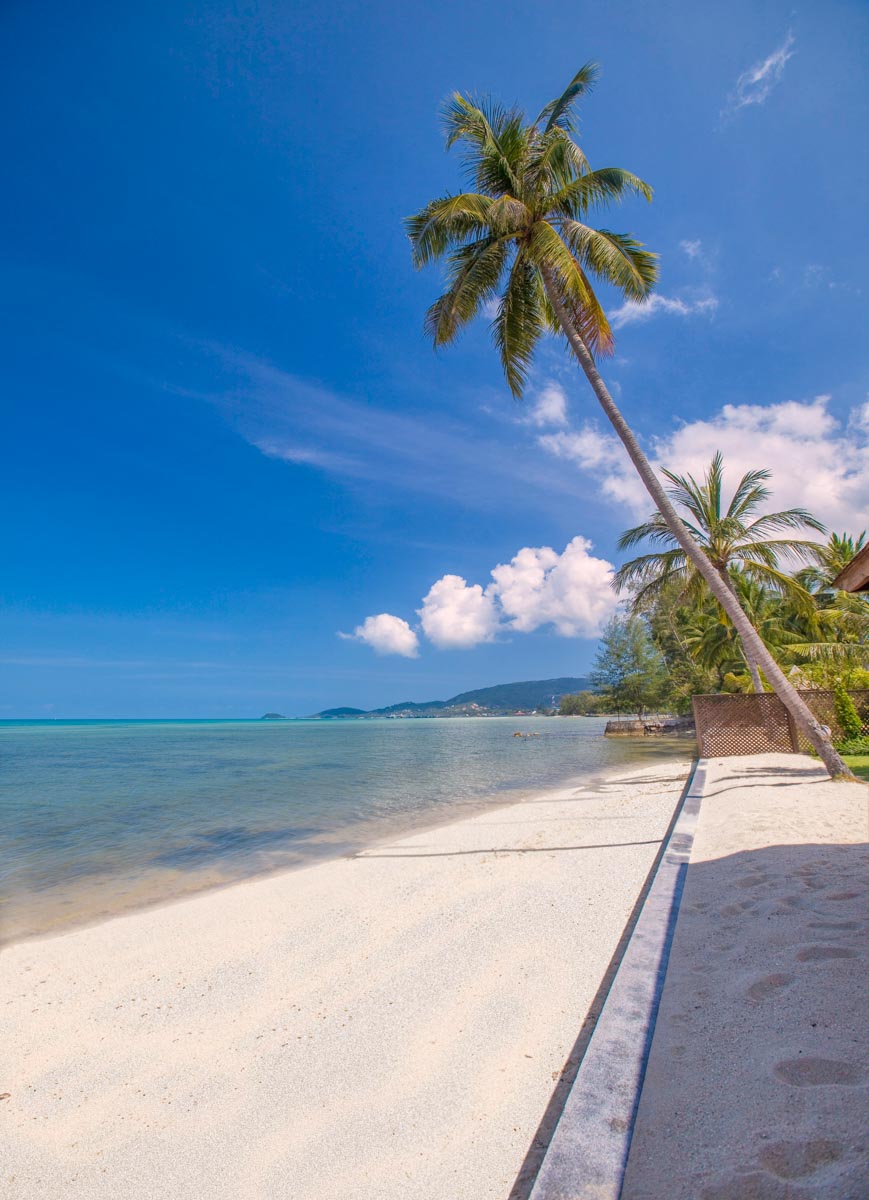 Running south to north from Taling Ngam to Nathon, Lipa Noi Beach is a forever favorite for its unbelievably fine white sand, sensational sunsets and calm crystal water. Perfect for reading, relaxing, swimming, and even long walks.
Just as low-key as Taling Ngam, village life centers around Lipa Noi, without the rowdy crowds or chatty vendors.
A few luxury private rentals and resorts dot the wide beach, and a couple of sophisticated restaurants both on and off the beach, in addition to a number of traditional wooden houses at the back of coconut plantations.
At low tide, you can walk all the way on Lipa Noi beach to the town of Nathon which has some shopping and some good seafood restaurants.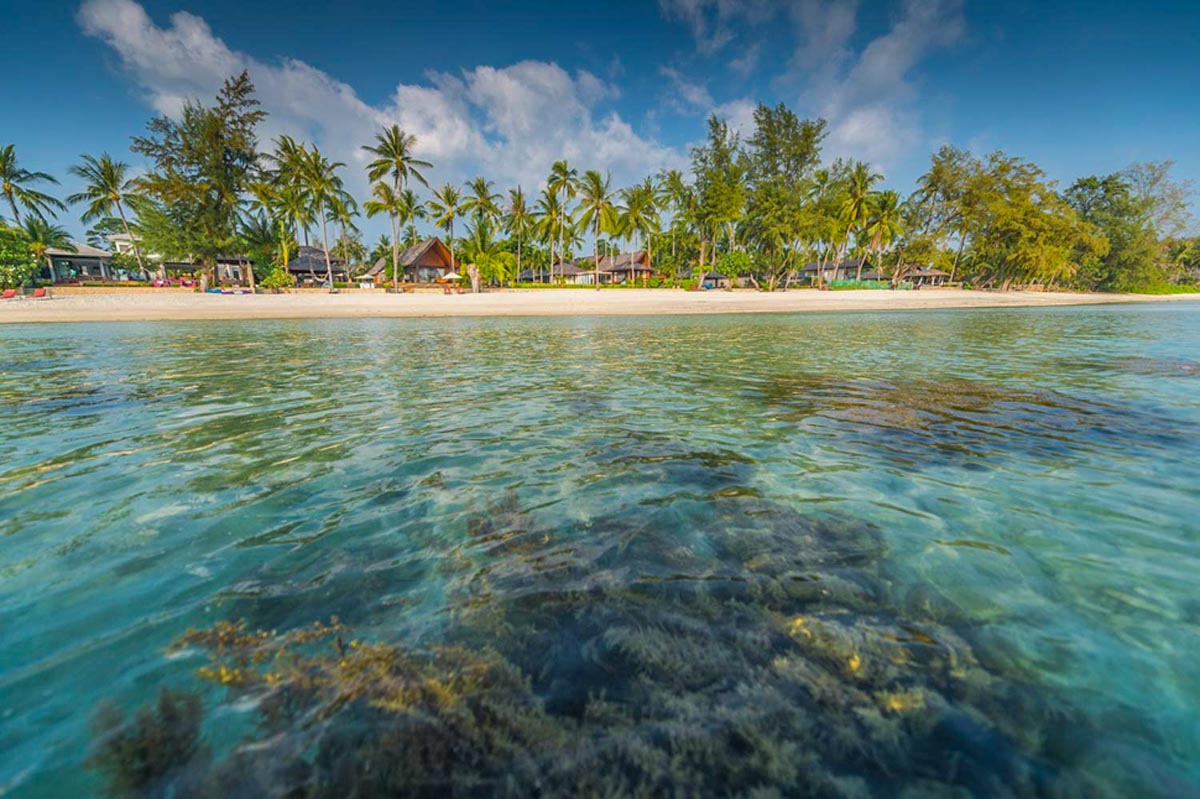 Where to stay
Villa InAsia
This white-walled party house is a modern, fairy-tale luxury home. Low-tide days open the beach and reef up to other activities such as beach volleyball or exploring the rock pools and collecting shells, a safe and exciting activity for children.
Baan Kilee
This tropical-themed 8 bedroom home has a great open layout, a big pool and poolside theater by the swim-up bar. The idea of relaxation mixed with entertainment is well executed, topped with a fresh lawn and palm trees swaying alongside alfresco dining.
Mae Nam Beach, North Coast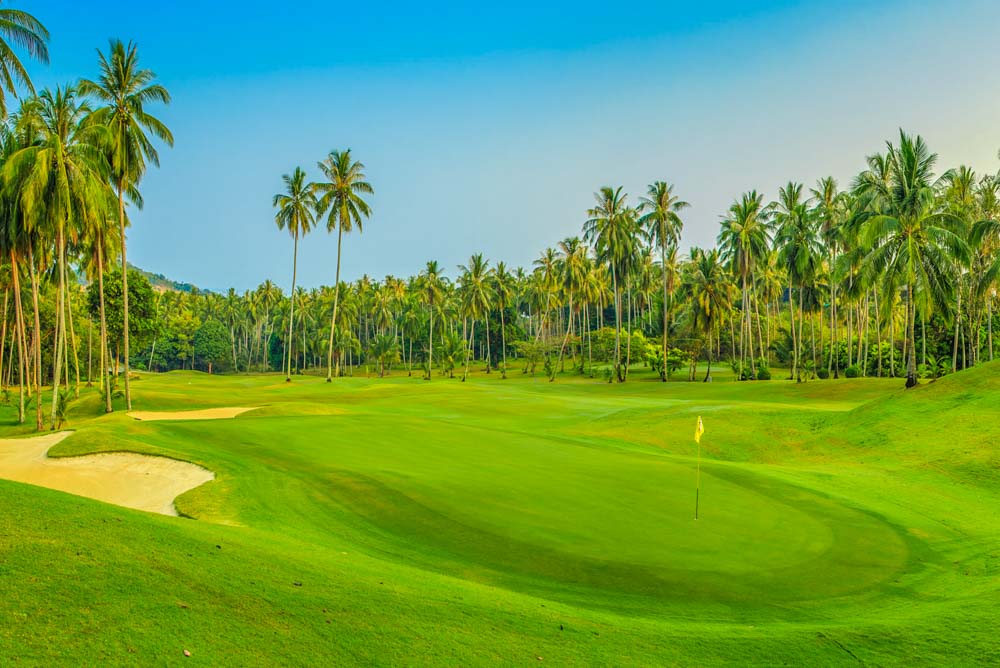 The longest and widest of the north-coast beaches in Koh Samui, the 5 km Mae Nam has a sleepy, laid-back atmosphere with the busier Bophut to the east.
This strip of white sand is pretty much entirely undisturbed by traffic, as the main ring road is 500m away at its closest point.
Large resort developments such as Miskawaan Villas take advantage of the peace and space, and contribute to the area's not-so-touristy mood.
Santiburi Golf Course and Country Club is in the area, as the only championship 18 hole golf course on the island.
While the quaint Mae Nam Village is set back from the beach, with some shopping and casual dining, including some expat-owned businesses.
Bophut Beach, North Coast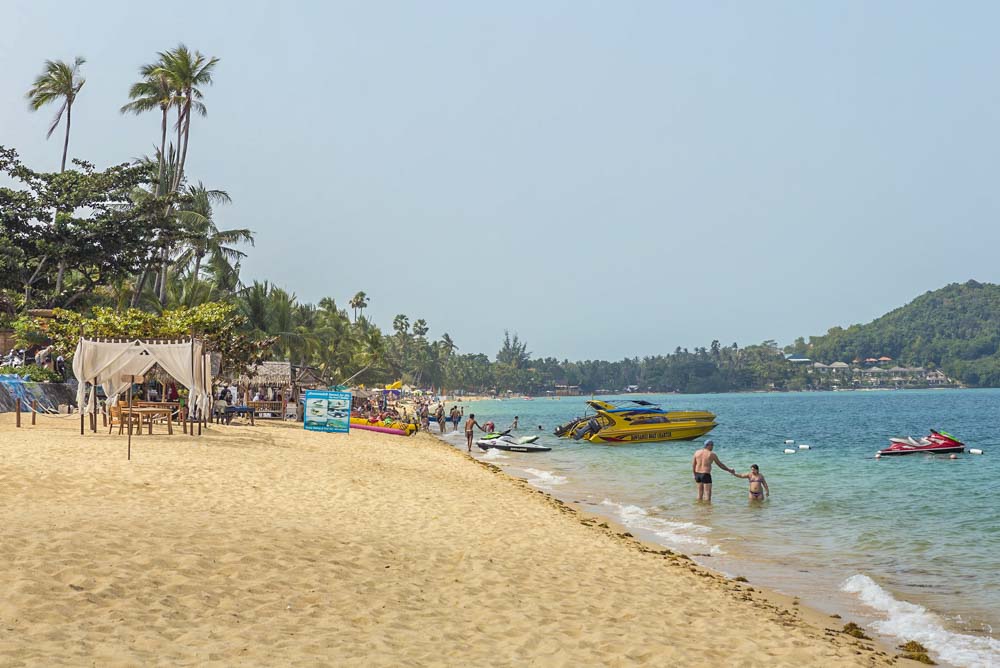 An intriguing mix of shops, restaurants and quiet bars, and a somewhat commercialized old-town charm characterize Bophut Beach, sandwiched between Mae Nam and Bang Rak (a quiet beach often referred to as Big Buddha because if the gigantic seated Buddha statue).
Bophut Beach's focal point is the Fisherman's Village, a walking market clustered along the east side.
With the complete absence of sleazy bars, this area tends to be a favorite of families and couples alike, who often come to enjoy live music, night market shopping and numerous dining options.
Where to stay
Villa M
5 bedroom Villa M is one of the few truly beachfront villa right in fisherman's village. The colonial-inspired design and rooftop jacuzzi are hightlights.
Villa Suralai
Six airy and stately bedrooms, indoor gym, 20m pool and an idyllic location – Villa Suralai enjoys a quiet hillside spot in Bophut.
[vc_single_image source="external_link" external_img_size="full" alignment="center" onclick="link_image" custom_s