Niseko Hanazono Resort is all set to welcome guests with beefed-up infrastructure and brand-new experience beginning Dec 4, 2021
As Japan has started to ease border restrictions for visitors such as vaccinated business travellers shortening quarantine from 10 days to three and to reissue visas for long and short-term stays that mainly affect international students and technical workers with the plan to steadily reopen to tourism by the end of 2021, it's time to think about planning trips again.
As one of the best places to ski in the world, Niseko is renowned for its abundant powder and consistency and quality of its snow. Be it beginners or advanced skiers, winter sports enthusiasts will find a variety of new elements at Niseko Hanazono Resort in ski season 2021/22 from day to night, including gondola, lift, runs and fascinating experience, with extensive precautionary measures for coronavirus in place to ensure an enjoyable, healthy and safe ski holiday.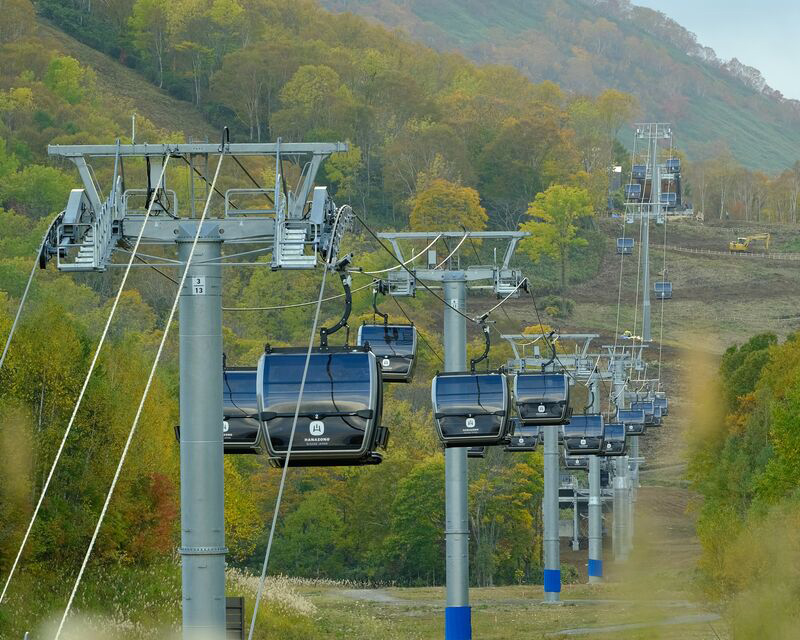 Hanazono Symphony Gondola
The first POMA 10-seat gondola installed in Japan, the Hanazono Symphony Gondola will whisk intermediate and advanced skiers to the top for the Colly's Folly run in a five-minute ride, with a mid-station in between for beginners to hop off and enjoy the Juicy Fruit run. This luxurious, brand-new gondola takes its name from the latest model of the Symphony cabin, a collaboration between the world-leading French cable operator POMA and the Italian design firm Pininfarina. Each cabin is outfitted with leather-trimmed, top-of-the-range individual seats and its own suspension system, striking a perfect balance between aesthetic and functional needs.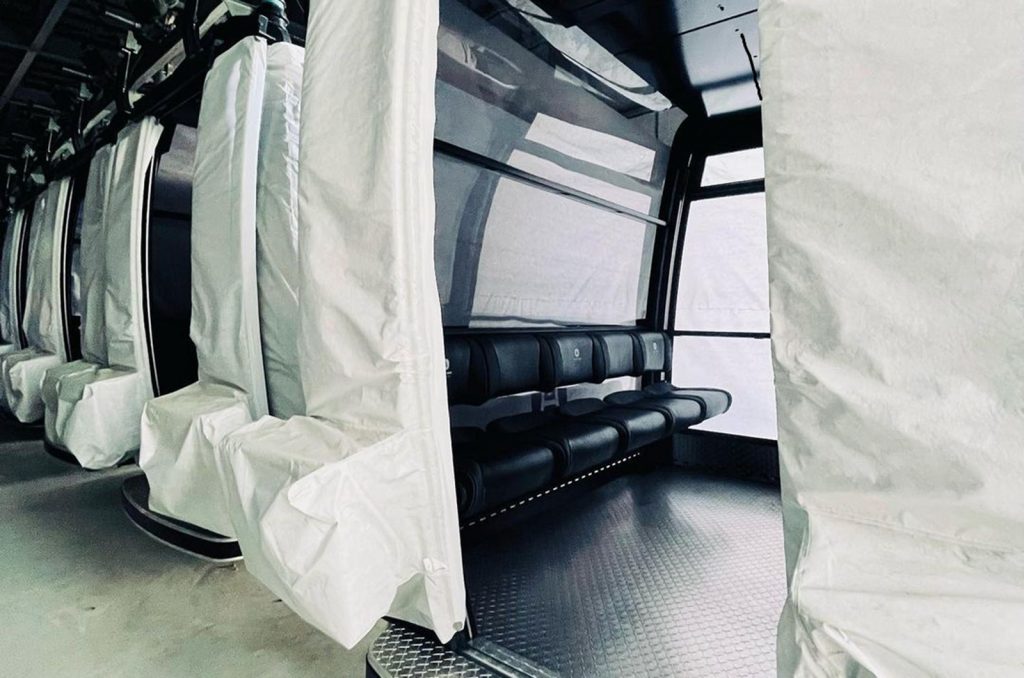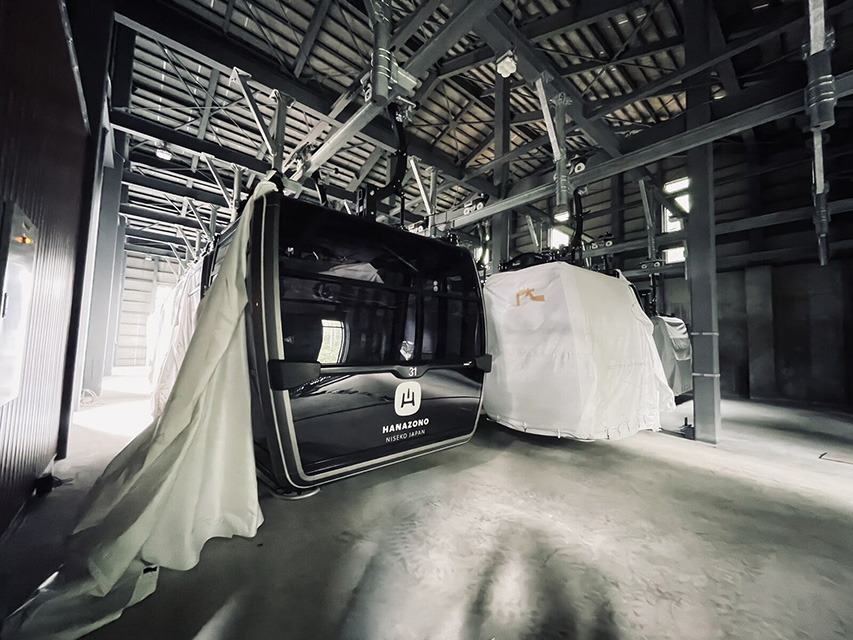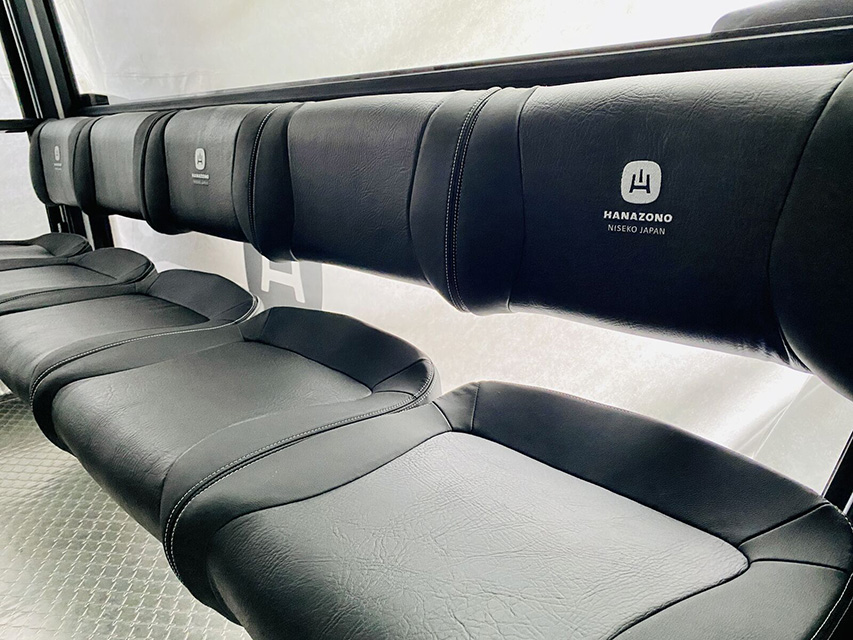 New Hanazono Lift 1
Replacing the existing four-seat Hanazono 1 Quad and serving the same route, this new six-seater is comfortably padded with heated leather seats along with footrests and a bubble hood for protection against flying powder of snow. One of the latest designs from POMA, this lift is embellished with custom Hanazono embroidery, offering a seamless ride in fine style for the ultimate ski trip.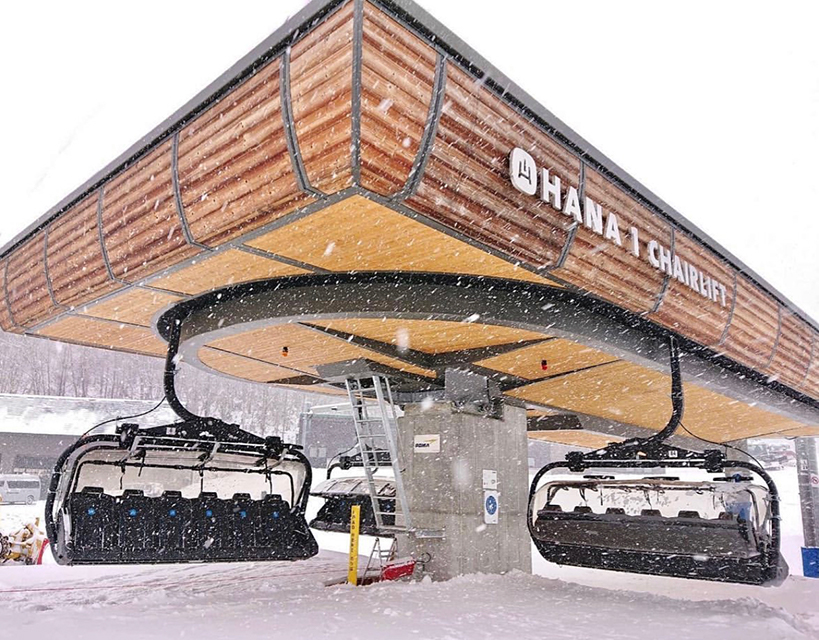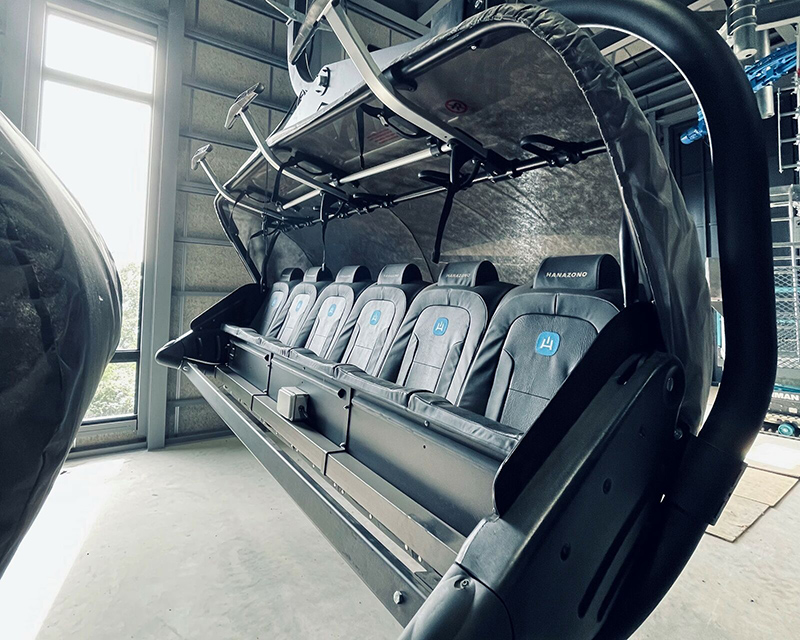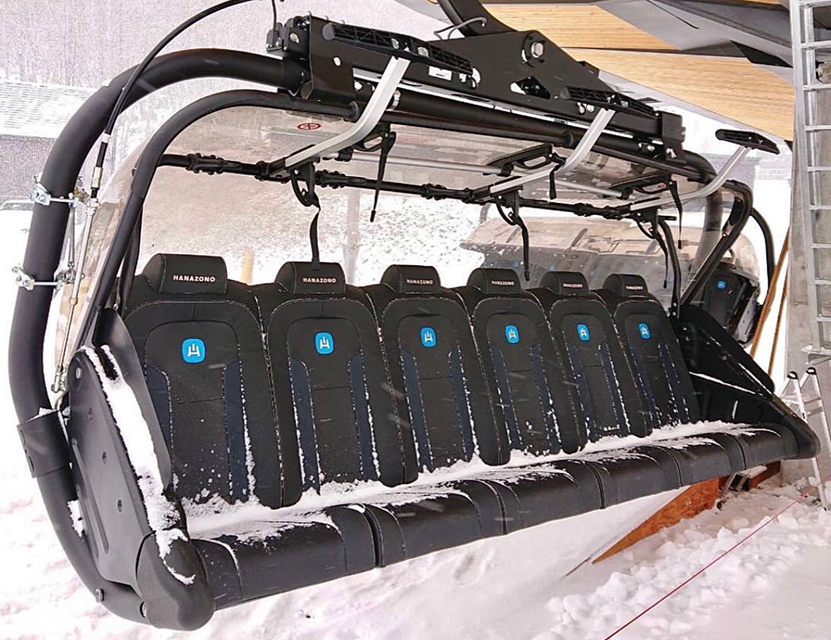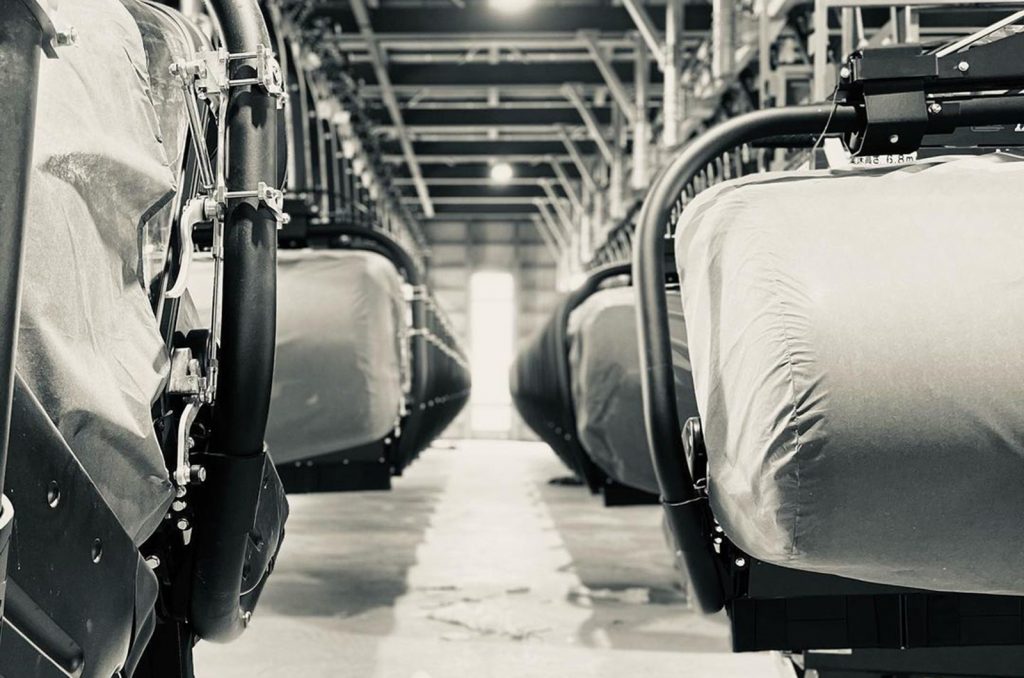 All-new courses for all comers
Also new for the upcoming ski season will be ski terrain and courses on the eastern side of the mountain, which can be accessed by the Hanazono Symphony Gondola. The top station is the stop for those who want to make fun turns along the 550-meter Colly's Folly, a wide, groomed intermediate course with an average slope angle of some 20 degrees. For first-time skiers and snowboarders, they can disembark at the mid-station and make their debut on the mellow Juicy Fruit with a length of 800 meters and a slope at around seven degrees.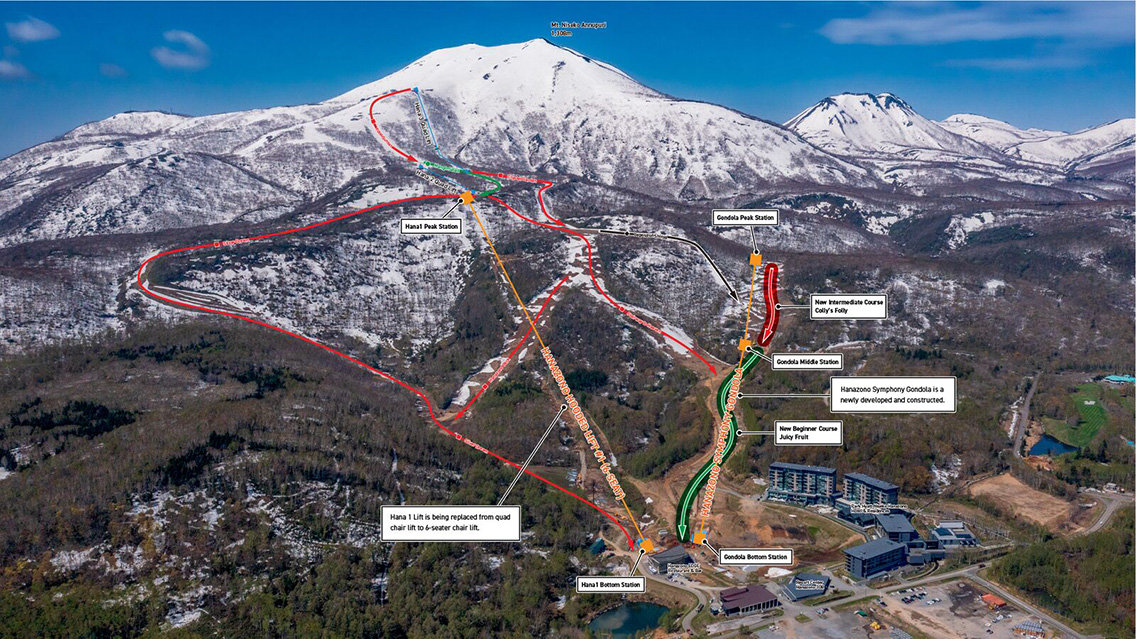 First time ever: Night skiing
Your skiing day does not have to end before sunset at Hanazono with the launch of the Symphony gondola. From 18 December, 2021 to 20 March, 2022, both of the new courses will be opened for night skiing between 4:30pm and 7:00pm. Enjoy the awe-inspiring views while gliding down the illuminated slopes, coupled with coloured LED lights of the gondola cabins and the stars and moon lighting up the sky.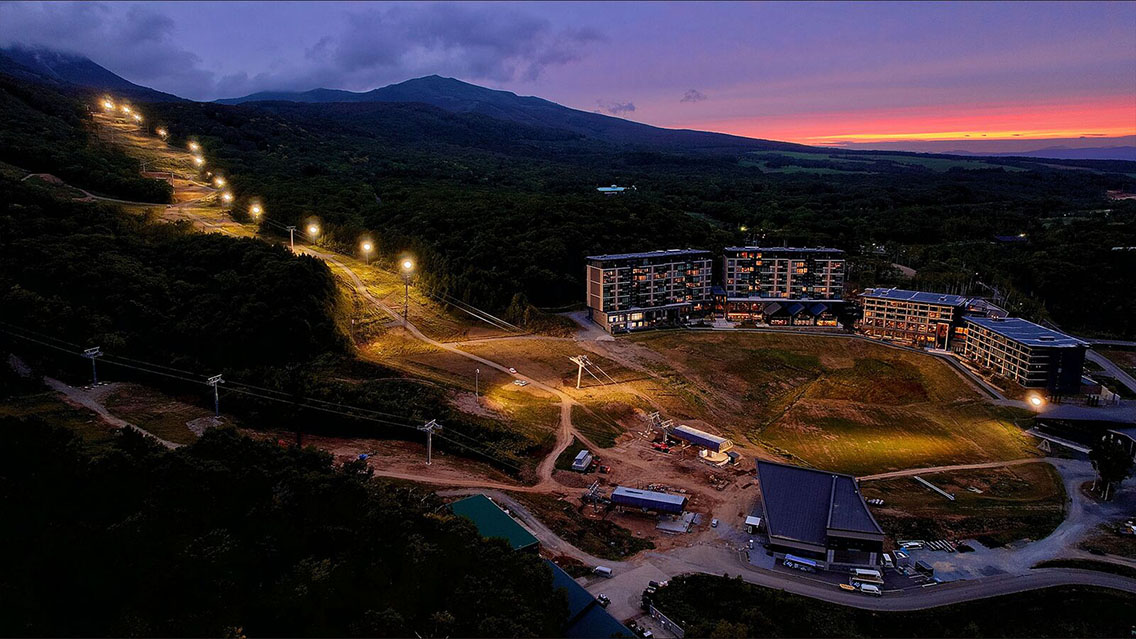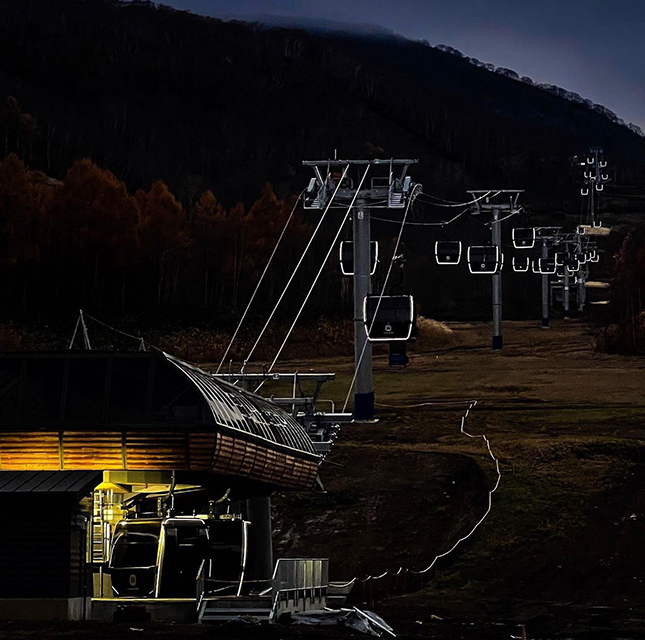 COVID-19 Precautionary Measures at Niseko
To put health and safety first for guests and employees alike, Niseko United continues to implement precautionary measures and enhanced hygiene practices following the latest guidance from health and government authorities.
When visiting the Niseko United Ski Resorts, guests are required to wear face coverings. It is highly recommended to install "COCOA", a contact-tracing application launched by the Japanese Ministry of Health, maintain good personal hygiene at all times and buy lift tickets online in advance. The number of guests per chairlift and Gondola cabin is limited except for a group or a family travelling together as social distancing measures. All Niseko United employees are required to check their body temperature prior to starting their workday and to put on protective face coverings when performing their duties.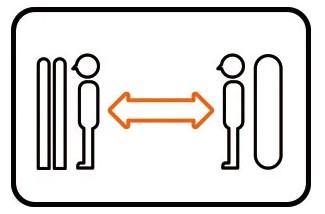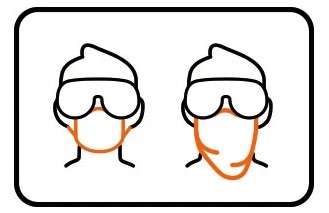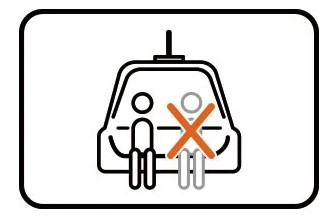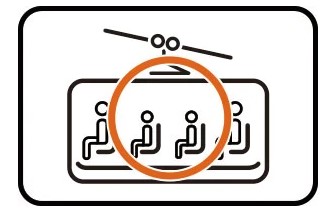 Add to the Japanese-style skiing experience catered to all comers are a range of hidden dining gems and relaxing onsens. Talk to our concierge specialists to plan your next trip to Niseko and celebrate the new ski season.
Visit the Ministry of Foreign Affairs of Japan for the latest entry restrictions and quarantine requirements: www.mofa.go.jp/about/index.html