If you love the Whistler outdoors as much as we do, you are probably going to get hungry at some point.
Here is your essential guide to restaurants, whether you are looking for a quick meal after a long day of skiing, a romantic celebration or a luxurious fine dining experience.
Keep it safe because you are going to need it. We've picked our favorite 10!
BEARFOOT BISTRO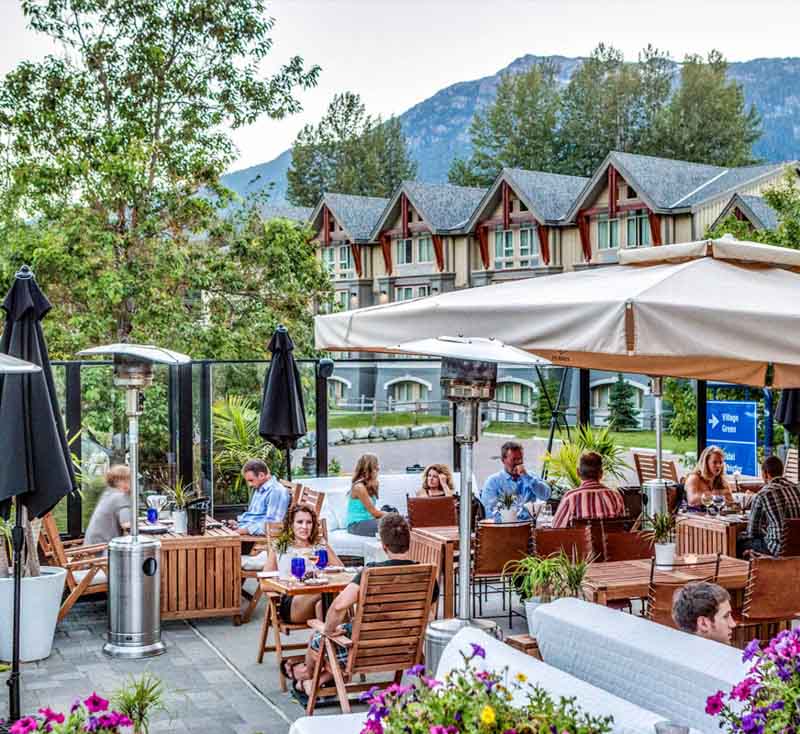 Bearfoot is far more than just a bistro. Comprising a fine-dining hall, champagne lounge (complemented by an underground 20000-bottle wine cellar), sun-soaked patio and Katel One Ice Room, it is a hedonist's playground that puts fun and luxury in every dish they serve.
Prepare to go all out, we'd say.
Start in the champagne bar and order some oysters, and let the staff teach you to saber a bottle, before moving on to the tasting menu with matching wine. Feel free to ask for a tour of the massive wine cellar, the largest in BC, no less!
Wanna learn a thing or two about Vodka? A visit to the ice room is an experience that will freeze your taste buds.
Its chilling -32C temperature is set just above vodka's freezing point, and tasting the liqueur at this temperature prevents the usual burn associated with drinking vodka, so one can experience the distinctive taste that differentiates one vodka from the next.
---
The bottom line
A beautiful setting for enjoying the finer things in life, the place has everything you need for an unforgettable night out in Whistler.
Where
The Listel Hotel, 4121 Village Green
bearfootbistro.com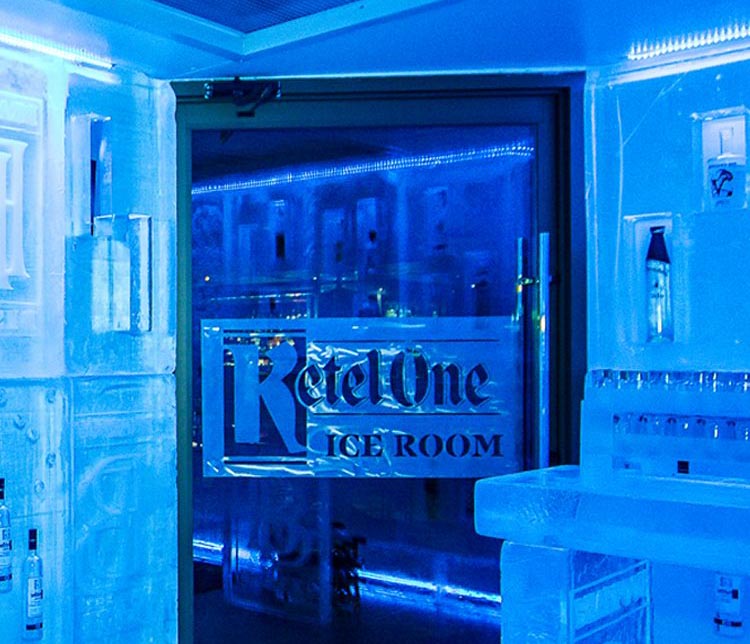 Trattoria Di Umberto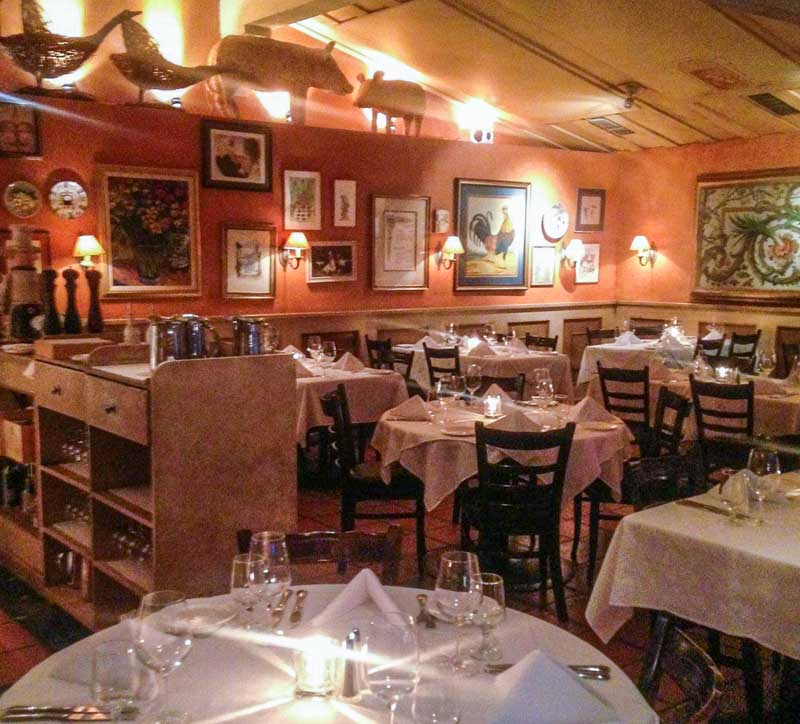 Umberto is a beautifully romantic Italian restaurant, hidden away behind wrought iron gates, offering an upscale slice of Tuscany.
Decorated with Florentine paintings and sculptures of farm animals, the old-world charm continues with plenty of wooden panelings and well-worn communal tables in the open-concept kitchen and dining room.
Expect authentic Italian cooking – from the Veal Osso Bucco, cannelloni through tiramisu – and exquisite presentation. At Umberto they'd like you to feel at home, enjoying wholesome dishes with a wine, a chat, and no fuss.
---
The bottom line
Want to take a pasta-loving date to one of the village's most romantic restaurants? You've found it!
Where
Mountainside Lodge, 4417 Sundial Place
umberto.com
SIDECUT
"Summertime allows wonderful outdoor fine dining on the spacious heated patio, where an outdoor fireplace provides an inviting ambience, while winter creates a romantic setting, with s'mores by the fire pit after a cozy dinner."
Seated at SIDECUT in the Four Seasons, viewing the grounds is a pleasure. Popular for their luxury iteration of surf and turf and regional meats cooked on an 1800-degree infrared grill, don't miss their rib-eye steak. The beef is sourced regionally and dry-aged, seafood fresh caught locally.
There is just something about that pristine hunk of meat, coated with herbs, done perfectly with a crunchy outside and juicy inside, that appeals to the carnivores in all of us.
SIDECUT also stands out from the rest with a stellar wine collection, an elegant dining room (featuring an open fireplace and sun-soaked patio!) and hearty breakfast menu.
---
The bottom line
Beautifuly cooked high-end steaks, and hearty, premium breakfast with potential to be the best in town.
Where
Four Seasons Resort and Residences Whistler, 4591 Blackcomb Way
sidecutwhistler.com
Quattro at Whistler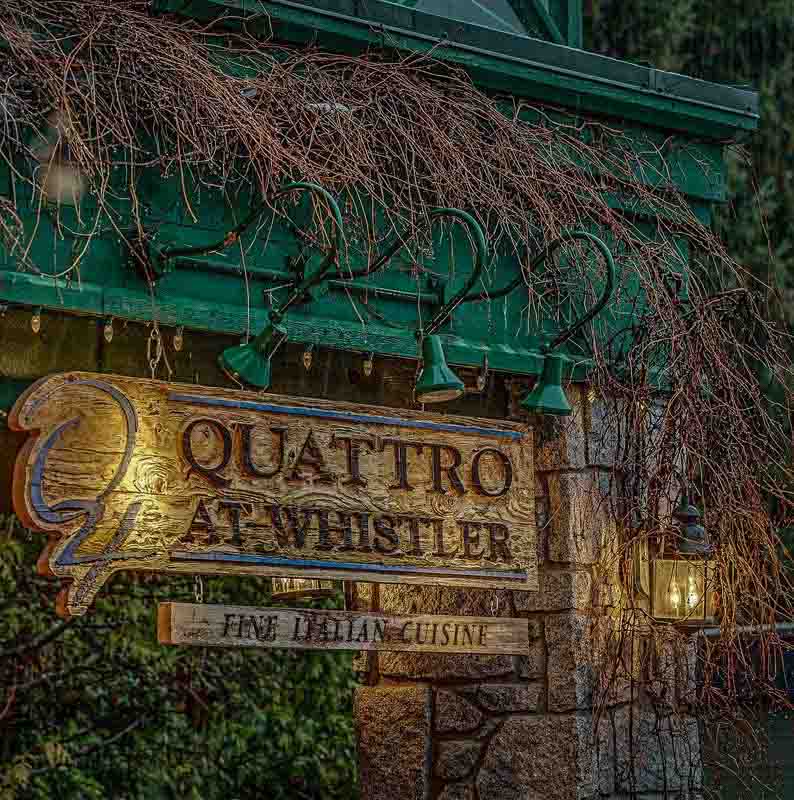 From rustic plates of pasta to finely crafted specialties (like the radicchio bocconcini, their appetizer of choice), this dim-lit Italian restaurant with a "mamma mia" accent is a good bet.
Seasonal produce shapes the menu, and you will have no trouble finding a wine to match your meal. Their list includes such Canadian wines as Batasiolo that are hard to find elsewhere. And pasta is really the best thing on the menu, with flavors reminiscent of Venice.
---
The bottom line
The well-worn communal tables and the family-style menu make it a great place to come with a group for a satisfying night out.
Where
Pinnacle Hotel, 4319 Main Street
quattrorestaurants.com
PASTA LUPINO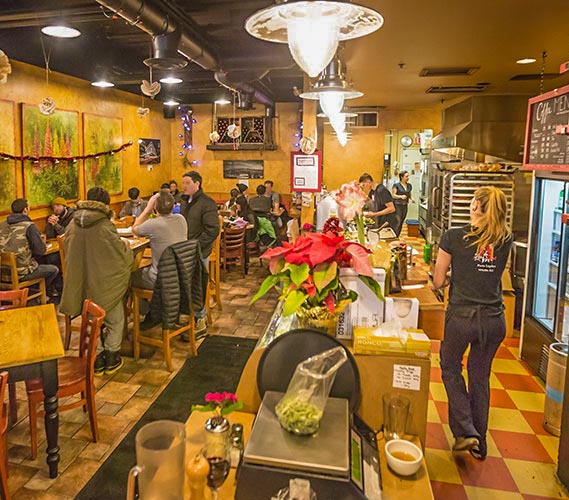 Pasta, we can't live without it. But it has to be fresh.
Since opening its door in 2000, Pasta Lupino has been a local favorite for fresh pasta made at the day. Here you can find wholesome Italian dishes served up in a cozy atmosphere. The housemade pasta is cooked with just the right amount of chewiness.
This place is a little smaller than most, with a more laid-back look of wooden furnishings in warm colors. The homemade ravioli is guaranteed to keep your taste buds happy to the last bite, while the veggie lasagna is another knockout on the menu.
---
The bottom line
Offering a short, simple menu, they are more about doing few things well, and doing them right.
Where
4368 Main Street 121
pastalupino.com
KA-ZE
This traditionally decorated favorite is located in the Westin, serving some of the freshest seafood you'll find in the village.
Japanese food seems to be available everywhere these days, while KA-ZE celebrates the cuisine with a big selection of expertly crafted traditional dishes.
We love them a little extra for serving great sake.
Fresh sushi isn't the only reason to head to KA-ZE. There is also premium shabu-shabu, that classic dish of boil-your-own thinly sliced marbled beef, and nabe (Japanese hot pot).
There is a nice skewer lineup to accompany all this as well. Come in a big group for a chance to try all sorts of different fare.
---
The bottom line
From top-notch fish, harder-to-find cuts to hearty rolls and snacks, KA-ZE sets up the expectation for some satisfying Japanese dishes, and it certainly delivers.
Where
The Westin Resort & Spa, 4090 Whistler Way
kazesushiwhistler.com
WILDFLOWER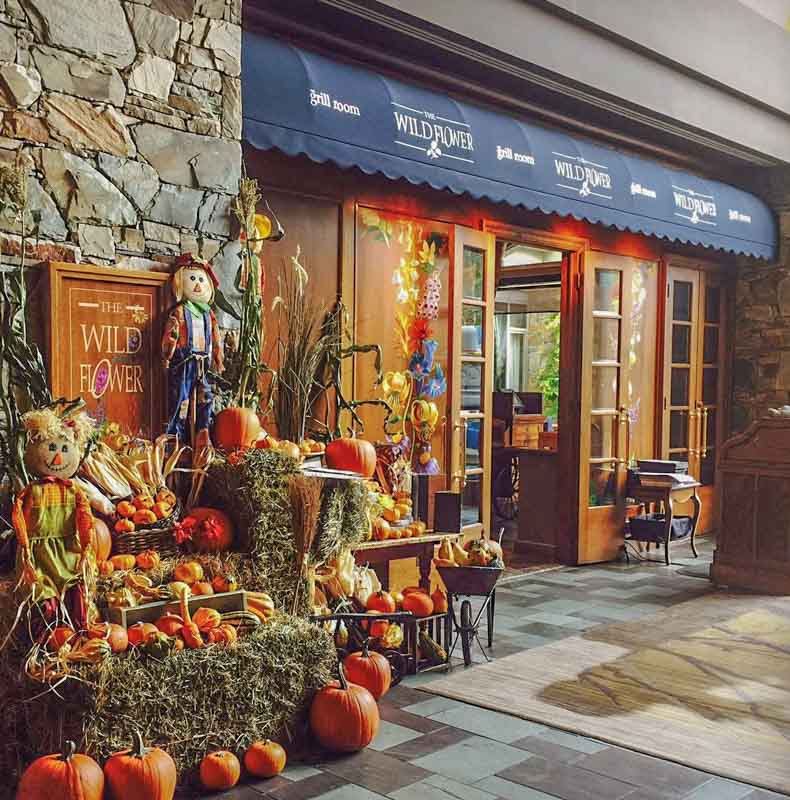 Open for breakfast through dinner, Wildflower serves up continental cuisine in a rustic and inviting setting. There's a ton of talent in these hotel kitchens of Wildflower at the Fairmont Chateau.
The alpine breakfast list is almost exhaustive; brunch is always a welcome retreat on the weekends; it is the personal touch that makes time fly when you sit down for dinner.
As for the wine, their extensive by-the-glass selection has always been BC first, with a cellar gathered from such regional wineries as Quail's Gate, Cedar Creek, and Mission Hill, complemented with a good variety of regional beer and signature cocktails.
Picturesque windows frame the restaurant, overlooking the breathtaking Blackcomb mountains while you dine. The view is even better on the garden patio in summer.
---
The bottom line
Sometimes you want to drop cash like a tourist and eat at a fine five-star establishment, especially in a gorgeous room with a real alpine sensibility. Go after the full fancy here.
Where
Fairmont Chateau, 4599 Chateau Boulevard
fairmont.com
ARAXI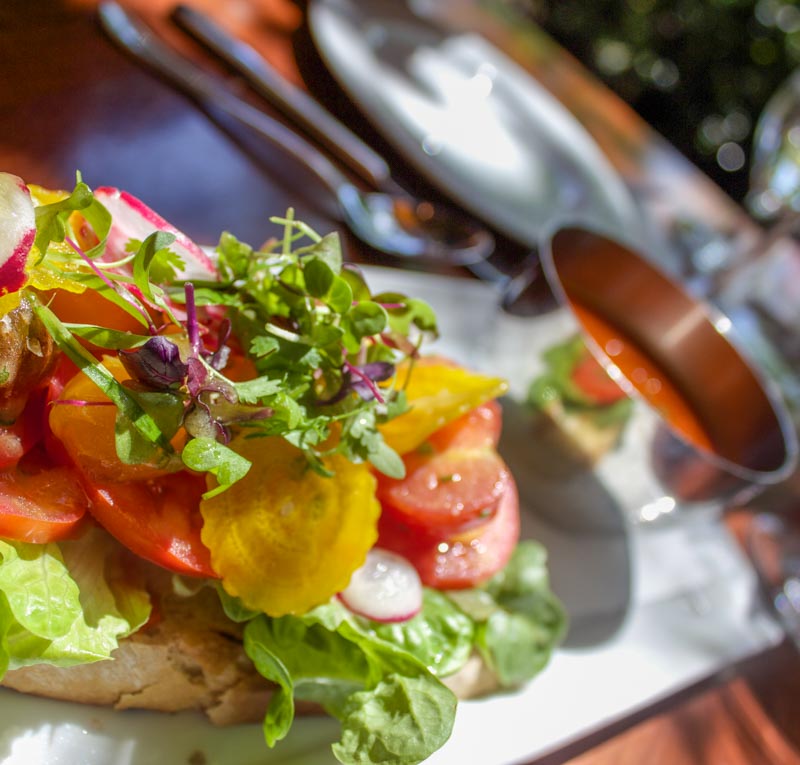 Araxi has been named the Best Restaurant in Whistler for years, and with good reasons, known for creatively presented oyster specials, a smart lineup of light lunch fare, fancy dinners and weekend brunches on their sunny patio.
At the bar, you'll find a list of specialty cocktails and an extensive wine menu (courtesy of their 11000-bottle cellar) with varieties available by the glass or bottle.
The ultra-popular Araxi Longtable Series (this year hosted under beautiful Mount Currie, in the very fields where the executive chef James Walt and crew pick their vegetables) celebrates sourcing local organic produce from North Arm Farm. The literally farm-to-table party is a rare and amazing occasion to learn where your food originates.
---
The bottom line
A celebrated spot for locally sourced Pacific Northwest plates in swanky environs. Also, tickets to their iconic Longtable are hot.
Where
110 – 4222 Village Square
araxi.com
Rimrock Cafe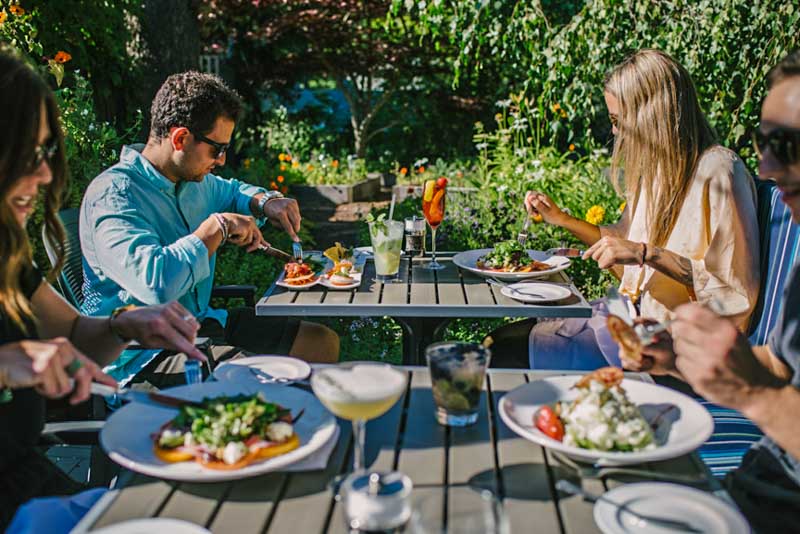 Locals are indeed lucky to have such a good neighborhood restaurant since 1987. It is a place where the staff is chummy, the look quaint and rustic, the atmosphere casual, relaxed, and signature seafood dishes prepared with precision in generous portions. Keep an eye on the specials. The seasonal sets are excellent value.
---
The bottom line
A consistently excellent restaurant with an intimate vibe, ideal for an upscale seafood meal.
Where
2117 Whistler Road
rimrockcafe.com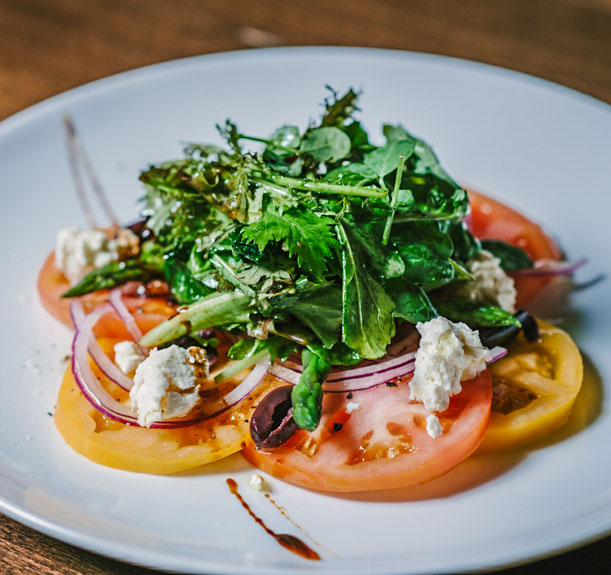 There is magic in Whistler no matter what time of the year you go.