Phuket is a little piece of paradise blessed with a good mix of developed beaches popular with visitors, and also a few hidden gems where you can almost, briefly, be alone.
Since 2014 when the government closed down most businesses on the west coast – due to them unspoiled beaches, bays and coves being too beautiful for their own good – Phuket's beaches have somewhat undergone a substantial upgrade.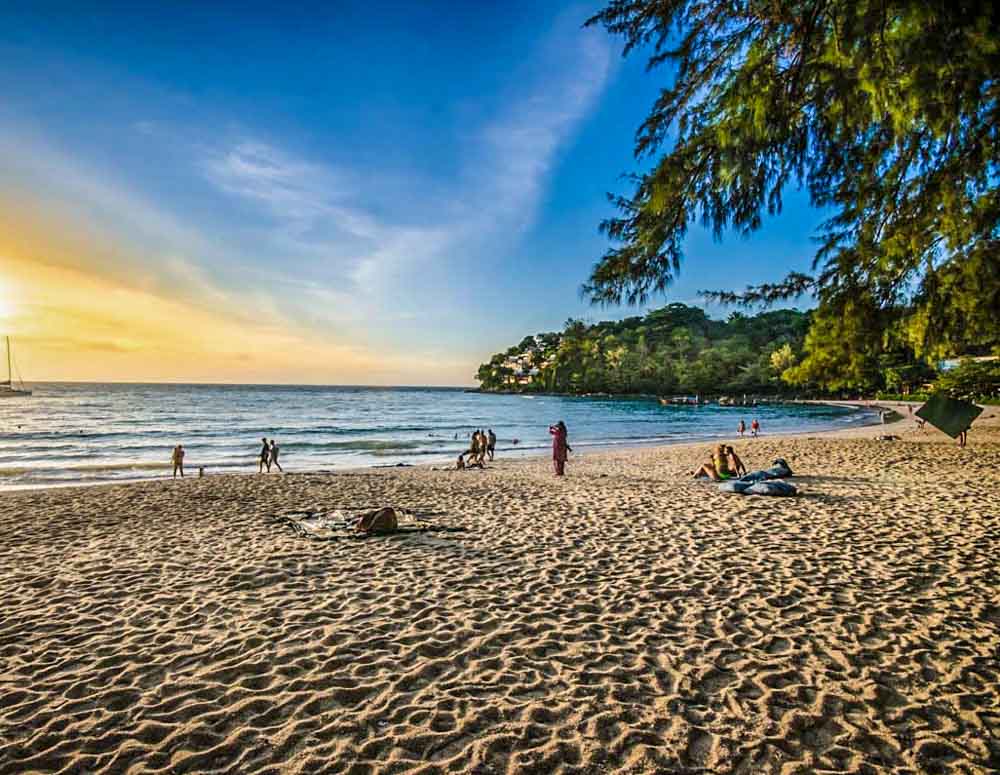 Where to stay
Villa Aye
The villa has an overwhelming aura of space, inside and out. The large lawn and provision of a pool platform are excellent for weddings set against a dramatic backdrop and radiant sunset.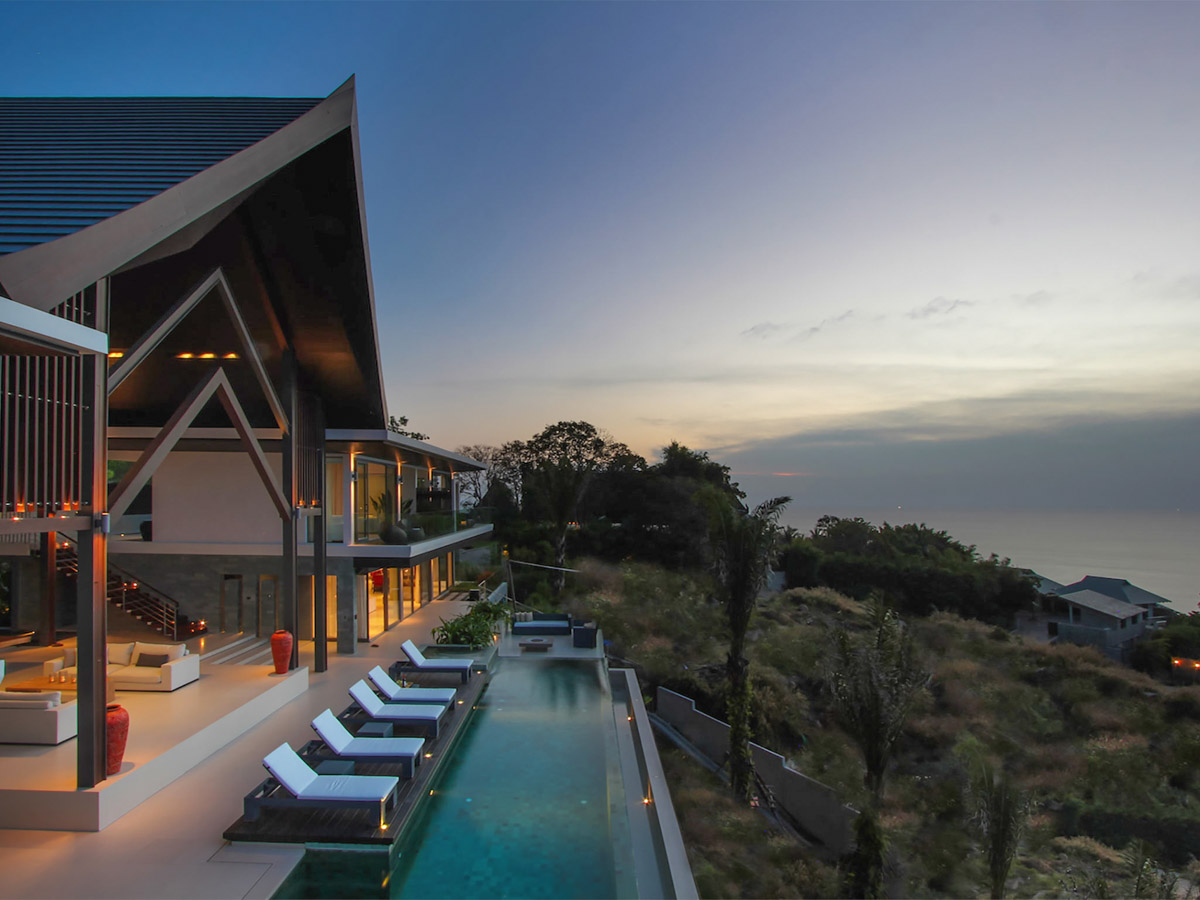 Villa Saan in Cape Amarin Estate
From an enviable position, high on a dramatic rocky headland above Phuket's west coast, every room at this stunning eight-bedroomed luxury villa commands breathtaking views of the Andaman Sea.
Surin, West Coast
After the military demolition, Surin is now empty, a lot quieter and all the better for it. Beach clubs have been closed down, rent-by-the-hour sun beds and umbrellas taken away. It is a bummer for party goers, granted.
What is left on the Millionaire's Row is a few dining places and resorts to relax in. It also means that the beach is cleaner, and water clear for swimming, returned to its natural beauty. For a quiet time with family and loved ones, and do some snorkelling, it is still a pretty good choice.
Good for: High-end resort dining and spa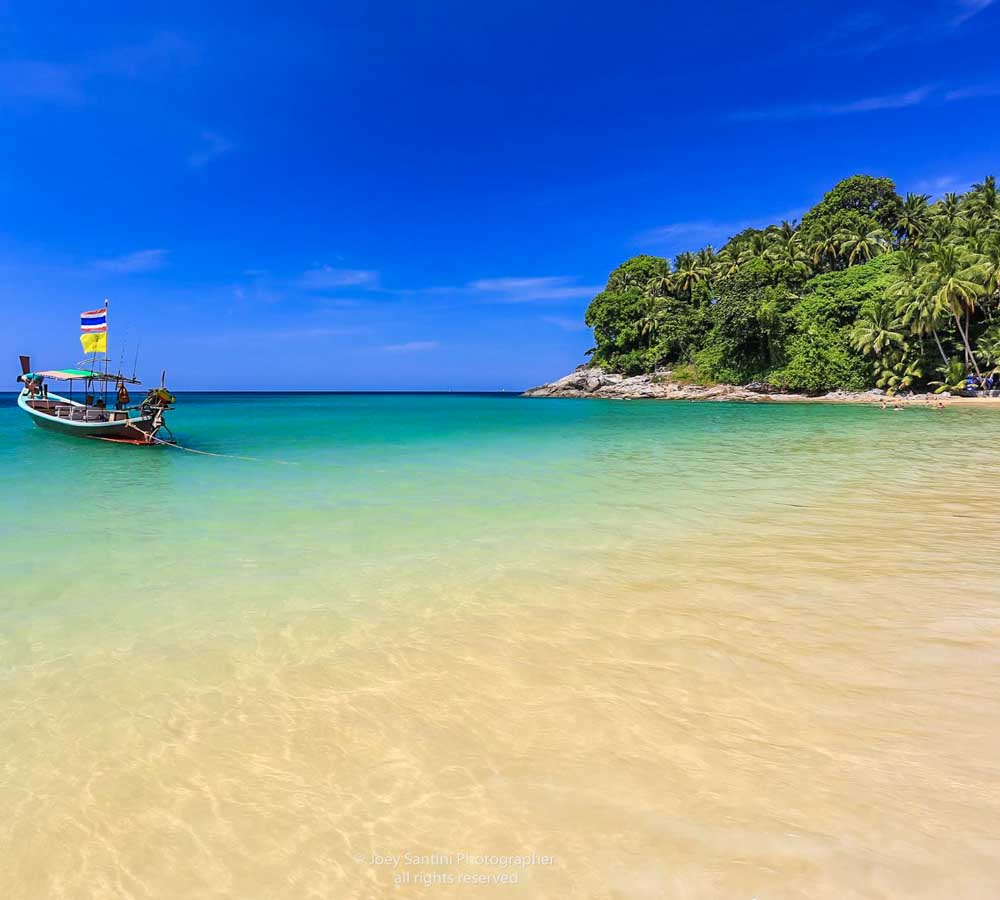 Where to stay
Villa Sammasan in Surin Heights
One of eight properties on an exclusive private estate, three-bedroomed Villa Sammasan is a great family choice. Glamorous Surin and pretty Laem Singh beaches are both within walking distance.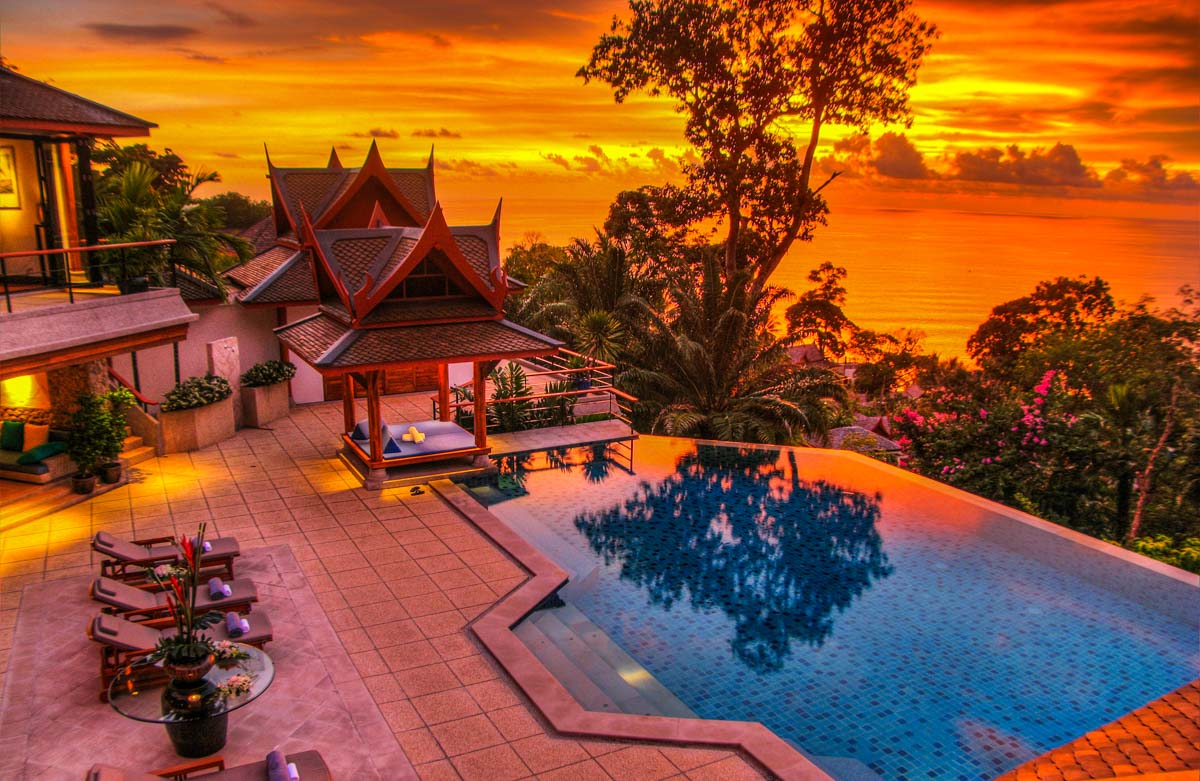 Villa Rak Tawan
The elegant six-bedroom pool villa Rak Tawan, a Thai phrase meaning "villa of love and sunshine" is nestled at the top of the hill, with incredible vistas over the Andaman Sea and is just minutes away from Phuket's best upscale international shopping, bistros and lounges.
Bang Tao / Laguna, West Coast
One of Asia's largest resort complexes, Laguna Phuket takes up a good part of the well maintained and inevitably commercialized Bangtao beach, which stretches a good 8km occupied by 7 upscale resorts (including Banyan Tree and the Outrigger) and a private gold course.
Golfing, horseback riding, elephant trekking, water sports, high-end spa treatments are among the long list of activities on offer here. Dining options are abundant. There is little reason to leave the resort area.
It is also exciting news that Catch relocated from Surin to this buzzling stretch of white sand.
Good for: A taste of island life without leaving any of your creature comforts behind
Kata & Kata Noi, West Coast
The crescent-shaped Kata beach might have the best surfing on the island, in addition to a good selection of local bars, mid-range restaurants and beach stalls selling surf lessons and water sports packages. There are day spas to retreat away to, sun beds for rent, and long tail boats to get further away for diving and fishing.
Kata (and its smaller cousin Kata Noi located just south of it) resembles a quieter version of Patong with not much of commercial activity but just a handful of loungers for rent to bask in the sun.
The setup makes for an easy-going chill-out spot, ideal for an afternoon and everyone will find something they like to do there.
Good for: sunny outings, water sports, casual dinners at a beach hut.
Karon, West Coast
Just next to Kata Noi, Karon (read Garon) is the second longest beach in Phuket stretching 3 km from end to end. Expectably it is quiet spread out with resort complexes here and there, but you can find beach chairs and umbrellas for rent along the long, broad walk.
Most properties here are across the road, and hence do not have direct beach access, which leave the beach even quieter. There is not much of a nightlife except for a few beer bars.
If you like a quiet, Karon is ideal.
It makes for a lovely afternoon stroll, but the waves can be quite big, and thus swimming (especially with small children) is not advisable.
Good for: Resort stayers, spa vacations, water sports
Nai Yang, East Coast
Being the fringes of Sirinat National Park means that Nai Yang beach is blessed with native wildlife and greenery, which frames its gently sloping white sand.
A pretty scenic setup for those long overdue picnics. Proximity to the airport (5-minute drive) is a plus. As for the dining, there is a decent selection of beach huts serving up bbq seafood.
There are two diving schools and a nearby reef that is 10-minute offshore offers fantastic snorkeling. For a quick getaway and a taste of island life, staying in the Nai Yang area is more than adequate.
If you are so lucky to see sea turtles laying eggs at night, contact your concierge and they will know to have Phuket Marine Biological Centre move the eggs to safety!
Good for: Laidback weekends, snorkeling, quiet long walks on the beach, teaching moments with wildlife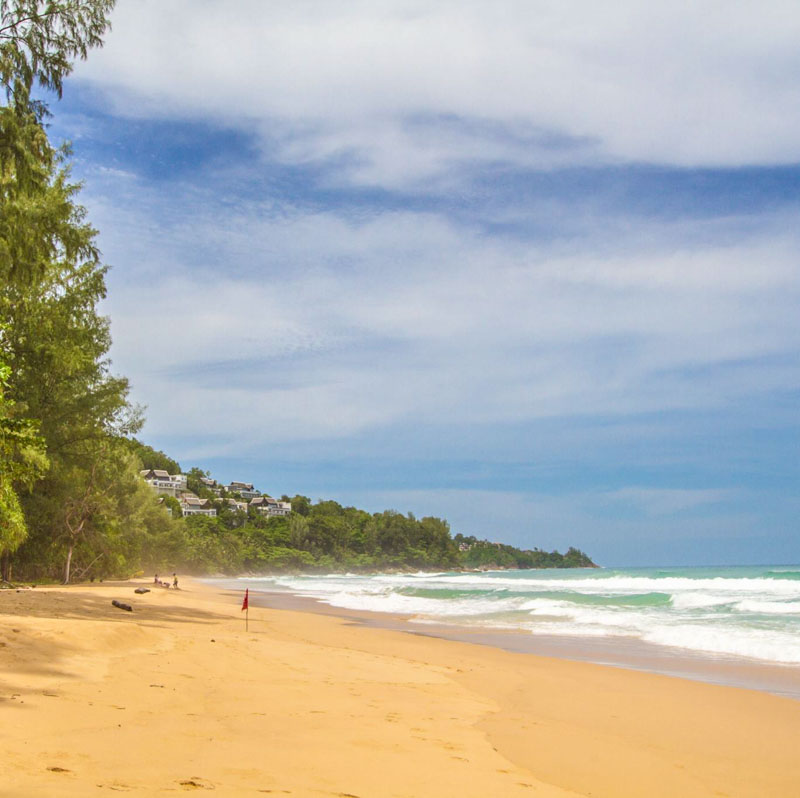 Where to stay
Villa Haleana
A short drive from Nai Yang beach is the Malaiwana Villas, an ultra-exclusive hillside estate. Villa Haleana is one of the biggest unit, with its private 18-meter pool and its own ultra-luxe spa room and gym, plus multiple areas to rest, dine and entertain. Along the coast, numerous hidden coves and beaches are waiting to be discovered.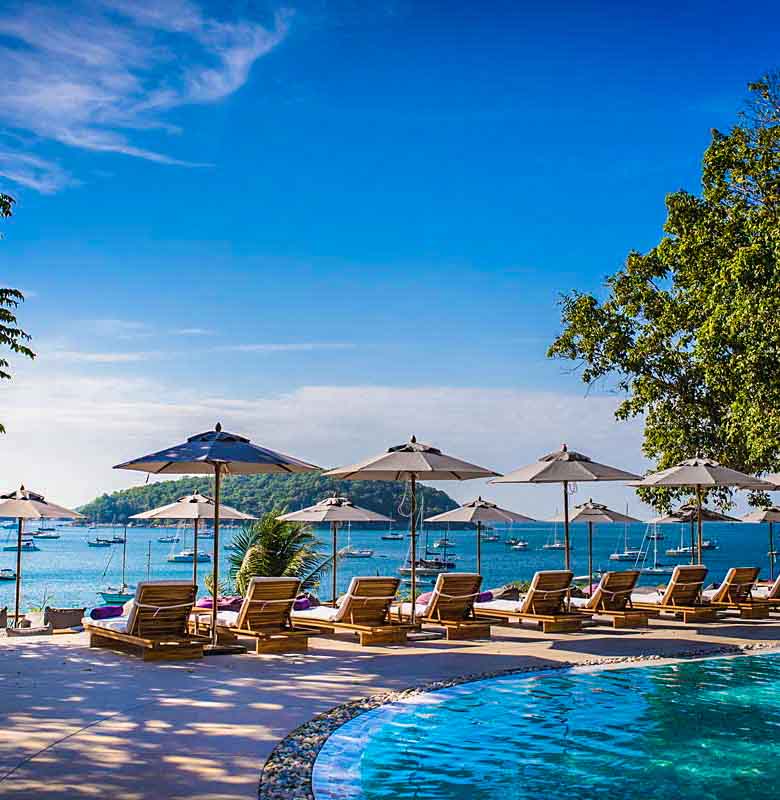 Nai Harn (and Ao Sane), West Coast
WIth a temple adjacent to Nai Harn, the beach has virtually no developments along the quiet, unspoiled stretch of white sand.
The focal point has to be the large manmade lagoon here with a tiny island in the middle, often busy with picnickers and families. When strong currents replace calm seas in the low season, kite borders and sufers are a common sight. As for dining, there is a handful of eateries behind the beach, and not much else.
This hidden gem of a relatively undeveloped beach is close to the sandy cove of Ya Nui (great for snorkeling and diving) and the tiny 200m beach of Ao Sane, a tranquil (and quite rocky) piece of paradise framed by huge granite boulders and palm trees that provide shade with ample sand space for sun lovers. Just make sure to bring your own masks and fins.
There are few restaurants serving up inexpensive Thai food (and the Nai Yarn resort is a 5-minute walk away, with finer dining choices), while there are no hawkers around at all to rent out sunbeds, kayaks or jet skis.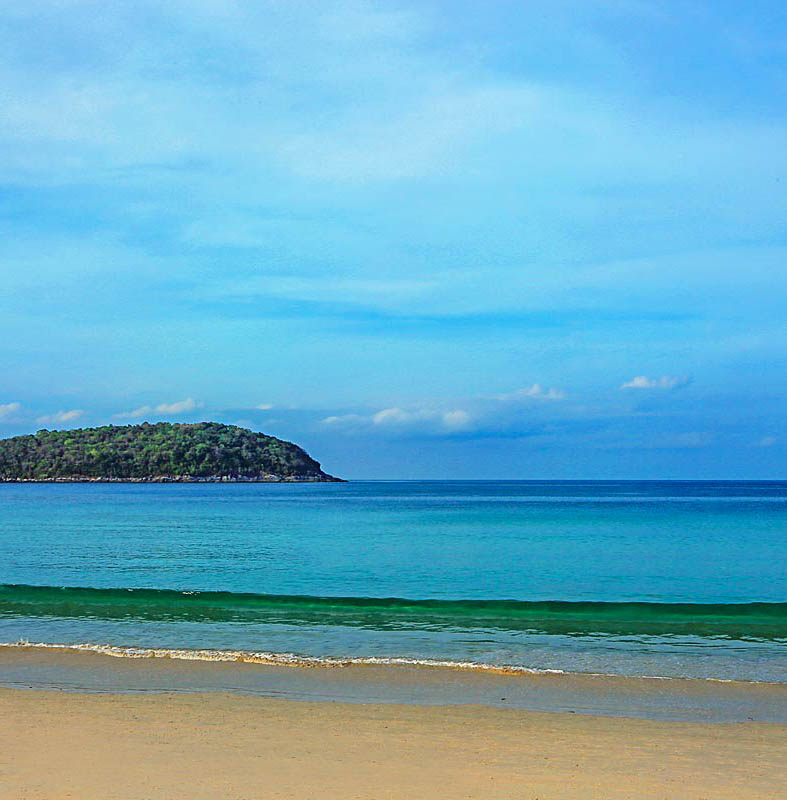 Cape Yamu, East Coast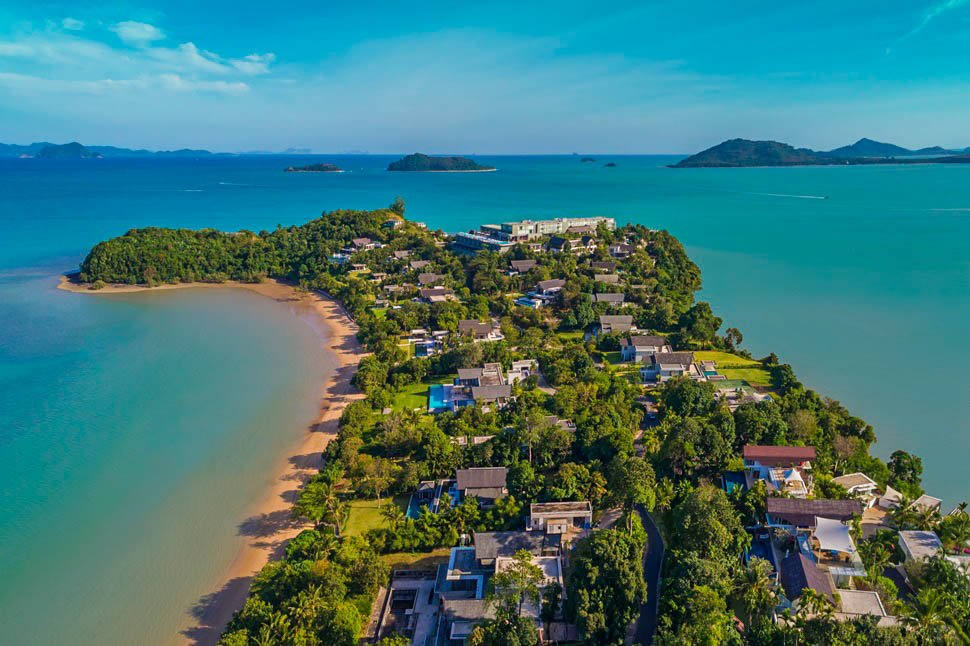 A quiet corner on the east coast only sparsely populated with hotel brands and luxury villas, Cape Yamu is popular among returning visitors with a premium taste, those looking for a quieter life than the west coast.
Nestled along the shores of a privately gated peninsula, Cape Yamu has been developed into a prestigious oceanfront resort community.
There one will find sophisticated dining, designer private homes, access to secluded beaches, and upscale spa treatments, all coming together to make this corner edge of the island a popular destination for exclusive retreats.
Good for: Swanky indulgences away from the crowd
Where to stay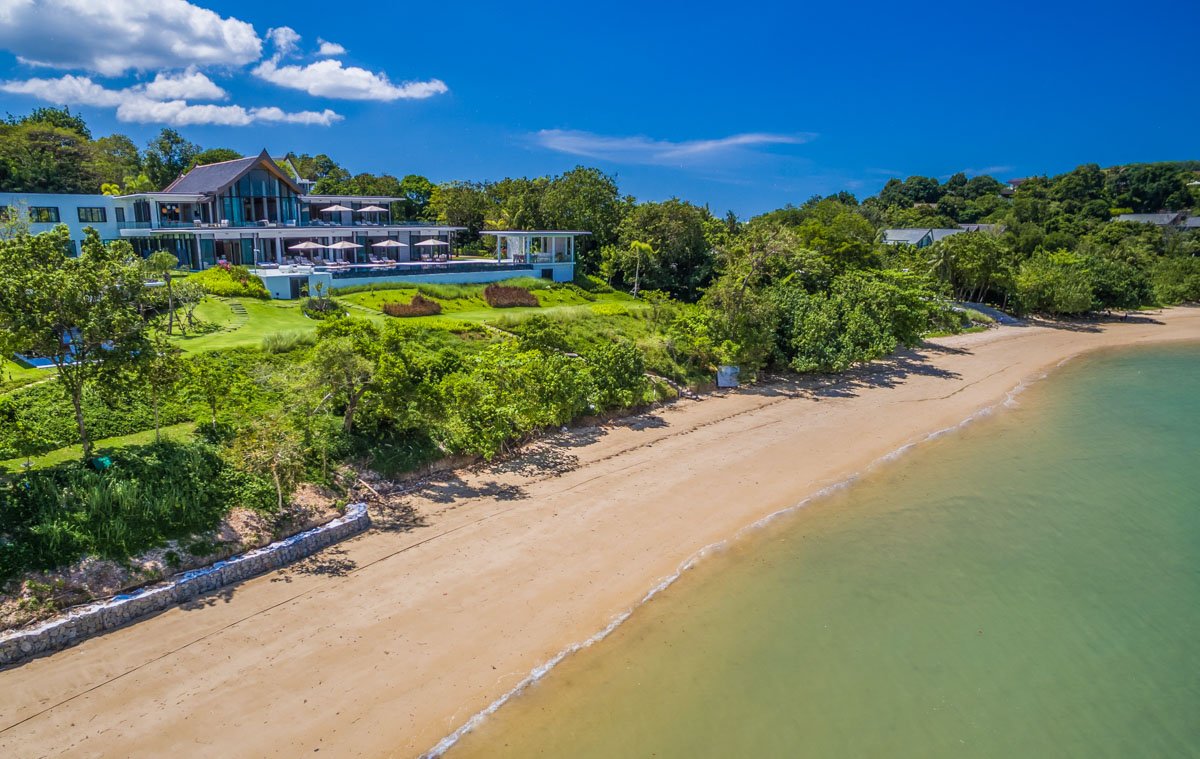 Villa Amarapura
Built in 2016, Villa Amarapura combines the must-have elements of luxury holiday villa rentals, including five staff, and adds stunning features and upscale qualities. The result is chic, glamorous, and comfortable retreat relaxation in superior style.
Villa Sawarin
Big, bold and beautiful, Villa Sawarin glitters brightly from its hilltop position, designed by Philippe Starck and Jean-Michel Gathy, with huge gardens sweeping down to the, and superb guest facilities for those looking to reconnect and relax.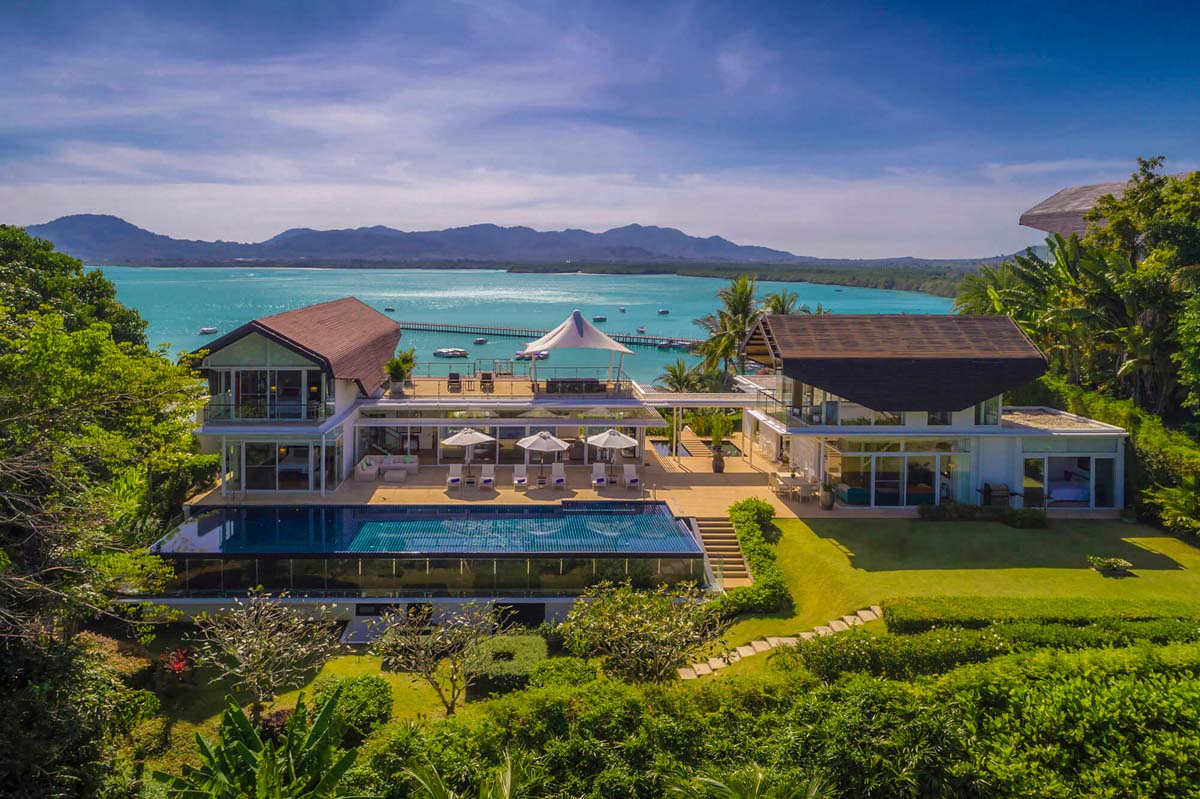 The Sapna
A chic retreat for travelers who want contemporary style along with the sun and sand in Phuket. Thanks to its location on Cape Yamu, this luxury Thailand vacation rental commands views of the water in two directions, including vistas over Phang Nga Bay.
Mai Khao, Northwest Coast
The largely undeveloped Mai Khao beach, spanning 11km is Phuket's longest. It is a great place for long walks on an almost deserted beach.
It is part of Sirinat National Park, a wonderful wildlife reserve, and one of the only beaches left in Phuket where marine turtles continue to lay their eggs during breeding season from October to March.
The area is a bit removed from the rest of Phuket's busier locations (Patong is a good hour's drive away). But it is worth a visit if you are after some quiet quality time with loved ones, and to see marine turtles continue to lay their eggs during breeding season from October to March.
4 distinct turtle species reside in the Andaman Sea, namely the Green, Leatherback, Hawksbill and Olive Ridley turtles, all listed as endangered to critically endangered by the World Conservation Union.
Eggs are rescued from surrounding beaches where the necessary environment for successful hatching can no longer be guaranteed are often brought here.
The Mai Khao Marine Turtle Foundation, which releases some 200 one-year-old green turtles every year, also offers a feeding and information session for the public, where kids can learn about turtle biology and conservation at the Turtle Shelter & Education Centre.
The airport is a short drive away and there isn't much nightlife to speak off.
The main places of interest are the JW Marriot/Anantara complex and the Turtle Village, a small shopping plaza with local boutiques and a few cafes.
Good for: Quiet retreat away from town, teaching moments with wildlife
Natai, Northwest Coast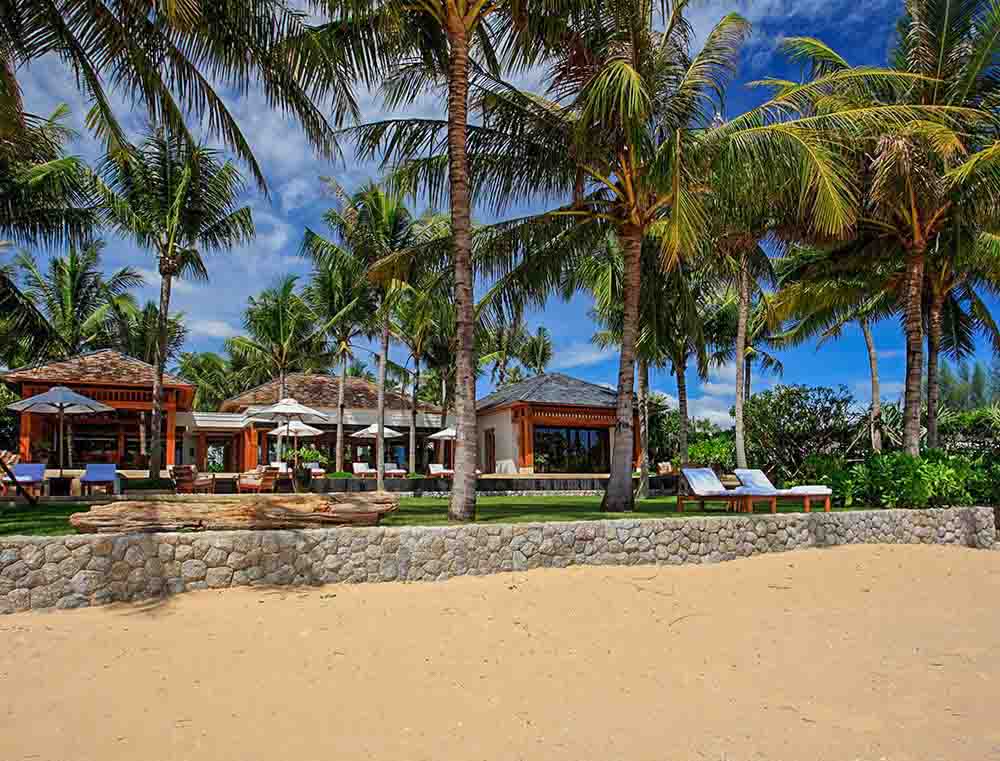 A short drive from Mai Khao, beautiful Natai is the destination for big beachfront villas built for families and groups of friends to share.
Multi-million homes line the shore, which is unspoilt and quiet, free from the usual trade one would find along beaches in southern Phuket. Only a handful of luxury resorts including Aleenta, Sava Villas and the Blue Canyon Country Club are on the wide and clean beach.
If you don't plan to visit the city, and just want a quiet retreat, Natai is the place, being only 20 minutes to the airport.
Good for: Quiet retreat away from town, quality time with families, water sports on direct beachfront from home
Where to stay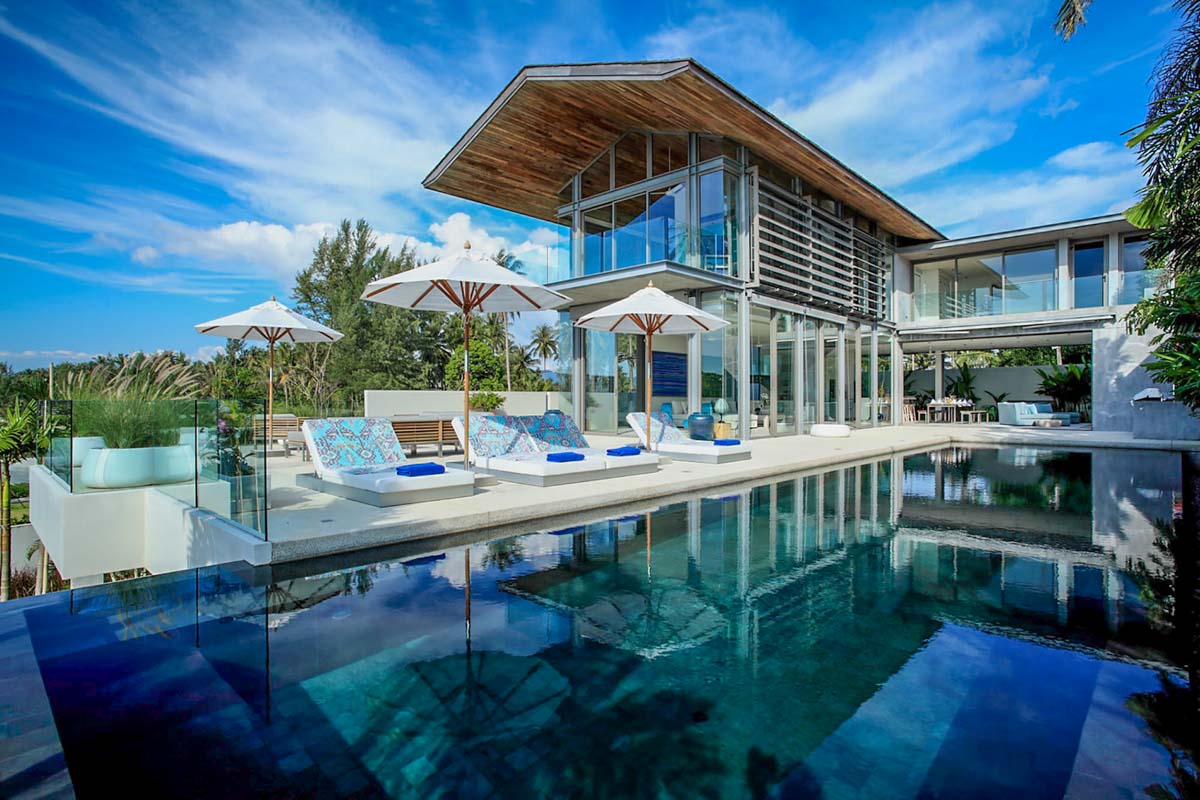 Villa Aqua
Aqua is a chic tropical beach home with a distinctive design and leading edge amenities. The 3 storey villa features 4 spacious ensuite bedrooms on the top floor – two of which are sea facing master suites with dramatic views right from their king size beds.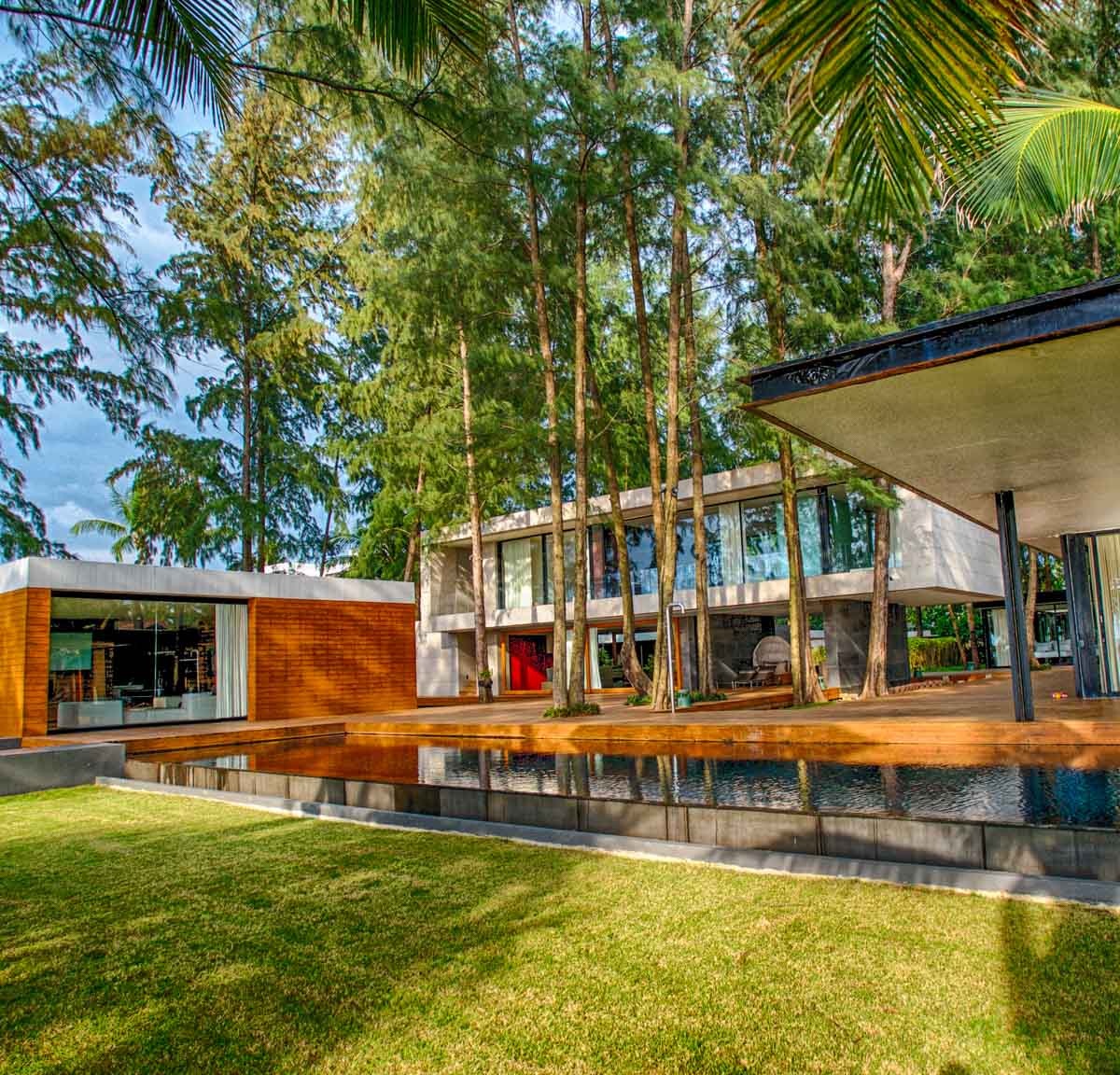 Villa Noi
Comprising 5 luxury houses separated by overgrown forestland, Villa Noi includes a stunning infinite pool directly situated on the seafront. The house has floor-to ceiling windows that wrap around the exterior of the building to offer a bright and welcoming setting.