With easy direct flights from major Asian hubs, Phuket is the perfect place for an indulgent getaway for urban dwellers.

That being said, Phuket is full of difficult decisions. The west coast has some of the best tropical beaches while the east coast gathers swanky hang-outs where expats frequent.
In the spirit of making the most of a long weekend there, we encourage planning to sample a bit of everything the island has to offer: take time to explore Phuket Island, dig deeper into Thai culture and lazy around your exclusive villa with family and friends.
Rent a private home for exclusive use
There's nothing better to enjoy the time with your friends and family with a twist – hosting your own party for a dinner under the stars. Not up to cooking? It is all taken care of when you stay at an all-inclusive villa served by a professional staff. Soak up the rays and raves at the dining sala, enjoy delicacies from your private chef and sample fine world wines.
In every group of friends, there are those who rather just relax and enjoy the absolute peacefulness of the private paradise, and those who would rather cram itineraries with excursions. Well, there are plenty of fun activities Phuket has to offer.
Charter a yacht to Bond island

As seen in the epic James Bond movie "The Man with the Golden Gun", Khao Phing Kan, otherwise known as James Bond Island, is in Phang Nga Bay off the coast.
There are some good operators offering fully catered yacht trips that take group of friends to explore beautiful limestone cliffs out at Andaman Sea, discovering the Phang-Nga Bay, Koh Tapu and Khao Ping Gan regions in style. Delicacies from Thai dishes, Sushi and tapas are served on board with free-flowing bubblies. You can even bring a DJ out and make it your own club at sea.
The coves of As Sane Beach, turquoise-hued Banana Beach, and Shark Point are among best sailing/snorkeling spots on Phuket and popular day dive trip sites. Dubbed "the most beautiful place in the world" by returning visitors, 40km east of Phuket, Koh Phi Phi is an archipelago of six islands amid the Andaman Sea, a collection of beautiful limestone sculptures seem to float above the water.
If you are up for devoting a day out at sea, a number of operators offer day trips by boat to take guests to these best sightseeing/snorkeling areas off the coast.
Try out the newest spas

A trip to the island would not be complete without enjoying a signature 90-minute massage that combine authentic Thai techniques and hot oil. Such an ultimate treat will definitely put anyone in a good mood. Getting pampered is a great activity, especially on rainy days. Visiting the island's traditional spas should be a priority, whether simply for a soak in a steam bath or an intense Thai massage.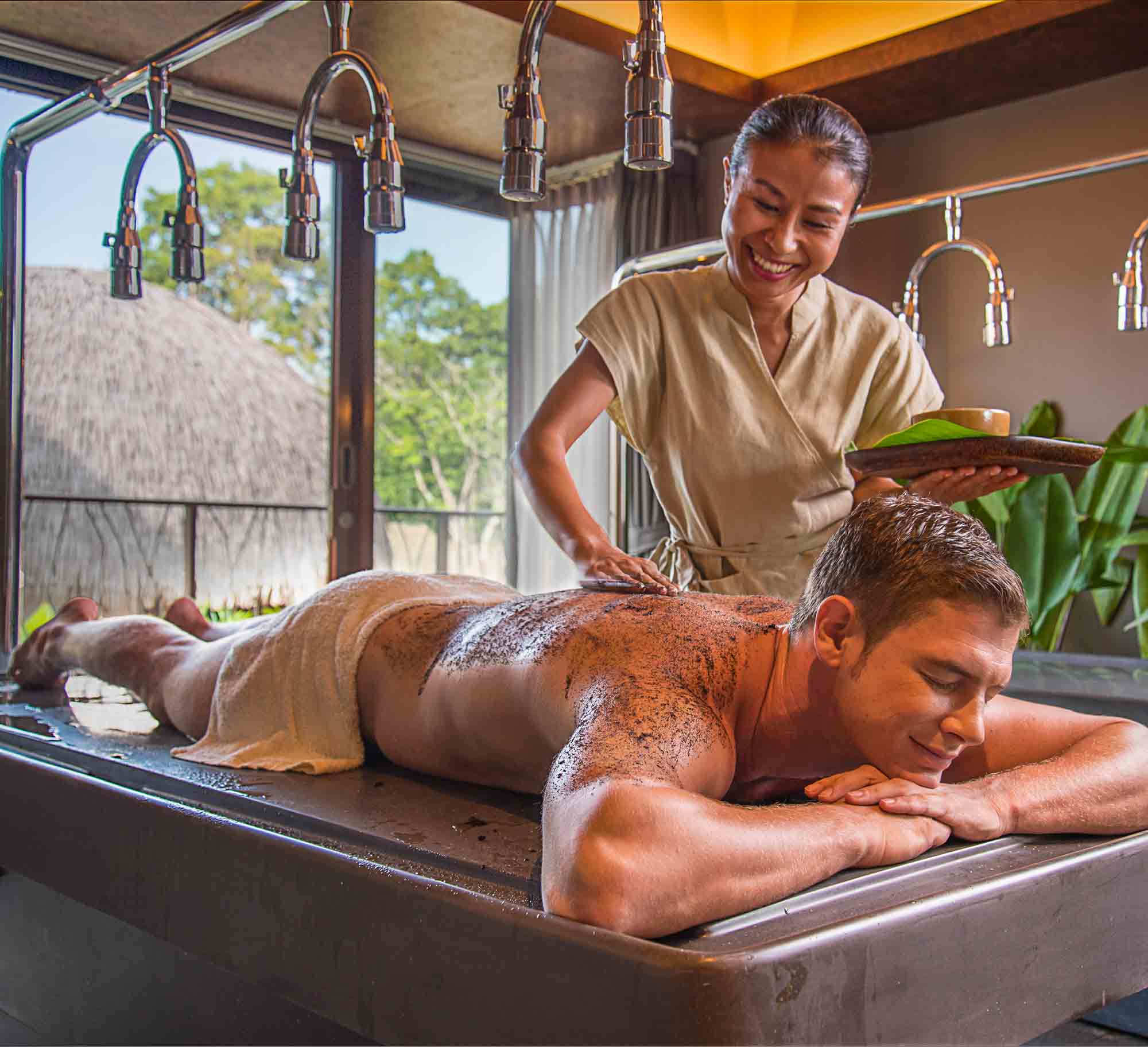 Sunday brunch by the beach

Looking for scrumptious breakfast and free-flow brunch on the island, one won't be disappointed. On the east coast at the the Watercourt restaurant at the Banyan Tree, which has a "Seafood & Sunday Brunch" tradition, Oriental Spoon at Twinpalms, and the ever-popular Nikki Beach curate and serve up some of the best salad bars, live cooking stations, and selection of free-flowing bubblys.
Beachfront resort Trisara offers a special jazz brunch every sunday from noon til four: live cooking stations, desserts, tapas, fresh seafood, all complemented with a jazz band live performance. While parents indulge in fine wines and free-flowing bubbly, kids will be kept busy at the Kids Club munching on complimentary snacks.